Home » Medical Uniforms Medical Scrubs Apparel » Exam Gowns: Paper, Plastic, or Cloth » Exam Gowns: Paper, Plastic, or Cloth
Exam Gowns: Paper, Plastic, or Cloth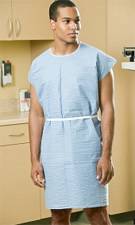 Item# 032MRGMD
Retail Price: $145.56
Your Price: $121.81


Unit:
50/case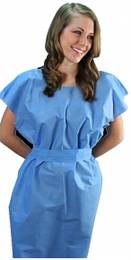 Item# XS31DEGMD
Retail Price: $95.20
Your Price: $77.49
ships w/i 5-10 days
Unit:
50/case
Most people are upset by the idea of any kind of exam. An exam means you have to expose your knowledge, ability, or body, depending on the type of exam in question. This is one of the reasons why exam gowns are among the most unappealing and least desirable things any person ever has to wear. It really doesn't matter which side of the gown you are on at the time, just about everyone has to don one of these at one time or another. If you are in the admirable position of being the one who orders exam gowns, with a little bit of thought you can provide the patients who come into your practice with the optimum in comfort, or at least as much as you can offer.
In addition to allowing accessibility to the various parts of the body, exam gowns can also be used to protect both the medical care giver and the patient from potentially harmful fluids and substances. If this is a concern in your practice, you are likely to find the poly coated version of the exam gown is going to best suit your needs. If you are unfamiliar with the paper gowns in question, they are the ones that feel almost as if they have a plastic coating. In the event that the patient is only wearing the disposable exam gown for a limited amount of time, you could choose to have the non poly treated gowns or buy the reusable fabric exam gowns.
Some doctors prefer the paper exam gowns for their massive convenience and huge assortment of uses. However, there is still the option of picking fabric exam gowns for your office. Most of the time these gowns are made from a cotton polyester blend or are made only from cotton. Gown per gown, they are of course, more expensive than paper, but with proper care will last for quite some time. If asked, most patients prefer the cotton or cotton poly blend to the paper exam products.
In both the fabric and paper exam gown choices, you will discover that gowns aren't the only design style. Many manufacturers make disposable paper and reusable exam clothing in shirt, shorts, and pants styles. The shirts are convenient in the gynecology field, while the shorts and pants are ideal for physical therapy practices. The daily treatments of the practice will have a lot to do with type of exam gown you need to have on hand.
All exam gowns come in huge assortment of sizes. Every medical situation is different, just like every patient is. You will be able to better care for your patients if you have a variety of gowns to offer. It's not unheard of for a medical professional to make every attempt to make wearing an exam gown as pleasant as possible by purchasing these essential items in the nicest fabrics and colors as they can. You can find exam gowns and other exam accessories in lots of fun patterns and images from child friendly cartoon figures to calming geometric patterns for the adults.