Home » Medical Uniforms Medical Scrubs Apparel » Surgical Gowns - 2 Ply » Blockade Surgeons Gown X-Large Ceil Blue Snap Neck, Back Closure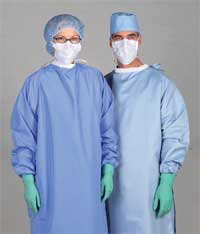 Surgery Gowns

Retail Price: $498.29
Your Price: $392.56
You Save: $105.73



Blockade Surgeons Gown X-Large Ceil Blue Snap Neck, Back Closure
Item# LX480210TDMMD
2-Ply Blockade Surgeons gowns offer superior shielding.
Features:
Blockade fabric is a taffeta weave produced with untwisted continuous filament polyester.
Constructed of 99% polyester/ 1% carbon.
Blockade fabric provides an exceptional barrier that is highly fluid-resistant.
The high-density construction resists fluid penetration while maintaining breathability and comfort.
Under normal conditions, Blockade barrier properties are guaranteed up to 75 processings.