Home » Medical Uniforms Medical Scrubs Apparel » Medical Surgery Shoe Covers » Cleanroom Shoe Covers » Calf Length Shoe Covers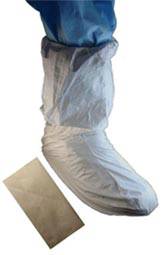 Calf Length Shoe Covers
Retail Price: $89.10
Your Price: $73.99
You Save: $15.11


Calf Length Shoe Covers
Item# 85625TNS
Features:
High traction solid PVC sole
Calf length upper
Cleanroom packed
White
50 Pairs/case

11/16/2008 9:45:47 AM
Question:
can you state the indications, precautions, how to wear and how to remove surgical boots.
Answer:

To our knowledge there are no special instructions or precautions related to the MP Cleanroom Calf-length Shoe Cover. These covers go on similar to socks and are removed in the same manner.