Home » Medical Uniforms Medical Scrubs Apparel » Cotton Scrubs: Comfort & Durability » Cotton Scrubs: Comfort & Durability
Cotton Scrubs: Comfort & Durability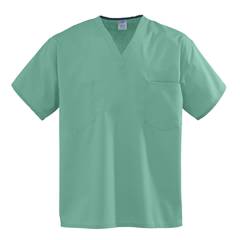 Item# 017MD
Retail Price: $247.23
Your Price: $206.48

Unit:
24/case
For maximum comfort and the highest quality in durability and function, Medical Supplies Equipment Company has expanded its online inventory to include 100% cotton scrubs. As scrubs in general become a wardrobe unto themselves, cotton scrubs yet remain among our most popular designs, proving that the adage "some things never change" still holds true even in the medical industry. Today, you will find a growing diversity of style, color, and functionality options in today's cotton scrub that transcends traditional generics. As we add daily to our selection of cotton scrubs, we stay focused on giving our customers the widest variety possible in fit, style, and color.
If you have concerns that cotton scrubs may shrink as many did in the past, rest assured that MSEC only selects the very best pre-shrunk fabric to guarantee protection of your investment. Our unisex reversible cotton scrub pants, for example, feature a durable cotton fabric designed to last for years without alteration of size or color quality. Enjoy a drawstring waist with 100% polyester ties that will maintain fit without discomfort or the need to constantly adjust the waistband. These cotton scrub bottoms feature hip pockets inside and out to give you twice the storage capacity that retail cotton scrubs offer. If your staff designates responsibility through color-coding, you don't have to buy a different color for each job description in your facility. Instead, rely upon the color-coded drawstrings these pants offer to designate rank and file within your staff. We carry sizes all the way up to XXXL and color options such as jade and ceil blue that add aesthetic appeal to bedside manner.
Our growing selection of cotton scrub tops is certain to impress you as well. Take, for example, our 100% cotton pre-shrunk cotton scrubs with breast pockets inside and out. Enjoy the added comfort and convenience of cap sleeves and double-needle seams that you can count on to last. Enjoy quick indentification with these cotton scrub tops with the color-coded neck trim that makes both size and service designation evident without overwhelming the eye. These cotton scrubs range in standard sizes all the way up to XXL and XXXL with growing variety of color options that make coordinating simple. Best of all, our cotton scrubs are reversible. If inadvertently soiled, a simply inside out takes care of any sterility issues without having to suspend patient cares and run down to the supply room for a change.
MSEC remains dedicated to stocking the very best and the very latest in medical supplies and equipment. We never cease to be on the lookout for the latest innovation that will benefit both our many clients and the patients they dedicate their lives to caring for. If you have any difficulty finding your choices in our vast inventory, call our customer service at 1-877-706-4480 to speed up your order or to make a special request. We are always happy to help you.