Home » Emergency Medical Supplies » Hydrocolloid Dressings for Low to Medium Exudate » Hydrocolloid Dressings for Low to Medium Exudate
Hydrocolloid Dressings for Low to Medium Exudate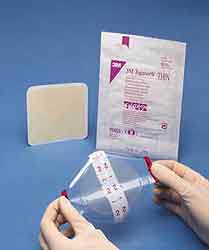 Item# 30009MMMINM
Retail Price: $77.37
Your Price: $47.31

Unit:
5/pack
Item# 00338445INM
Retail Price: $49.94
Your Price: $26.89

Unit:
1 box
Hydrocolloid dressings are useful for exuding wounds at low and medium levels, since they have superior absorption properties for superficial wounds. They offer many advantages over traditional dressings, and most patients do not suffer allergic reactions from them. Hydrocolloid dressings are frequently more absorbent, and reduce the rate at which the dressings will have to be changed. Many times, these dressings can be worn for three to five days before a new dressing is required. To help you to determine when it's time for a change, we have hydrocolloid dressings that change color when they are no more effective.
There are different forms of hydrocolloid dressings selection. In order to make a choice, first determine the amount of absorbency needed. The shape of the dressing should also be taken into consideration. There are options specially created for hard to reach places. These dressings, coupled with the property of fewer changings, makes hydrocolloid dressings ideal for superficial wounds in out of the way spots on the body. If you will need to be able to see the wound, we also have transparent dressings to allow for visibility.
Hydrocolloid dressings are often used in clinics or small medical facilities. In those areas, budgets are often extremely tight. That is why we strive to make the best quality hydrocolloid dressings and medical supplies available to you for the lowest cost, and that cost is even lower for those in the medical arena. By signing up for our medical professionals discount you can save even more money. Please allow us one to two business days for processing your request before you order. Once you are added to our professionals discount roster, you will be able to save without having to worry about purchasing a minimum quantity. It is our way of saying thank you to those who work so hard to keep us healthy.
For those who work in medical facilities, and those who are seeking to stock home first aid kits, the need for reliable, cost effective supplies is a high priority. Among some of the most useful products which are required daily in medical facilities are hydrocolloid dressings. All of your supply needs here at Medical Supplies Equipment Company. We will offer you the best medical supplies and equipment for the lowest possible price. If you did not find the hydrocolloid dressings you need, please post a question to our expert or contact us toll free at 1-877-706-4480, and we will find what you are looking for at the best possible price. Our goal is to serve you in all of your medical supplies and equipment needs.