Home » Emergency Medical Supplies » Non-Adhesive Wound Dressings » Non-Adhesive Wound Dressings
Non-Adhesive Wound Dressings
Item# 2312EKDYS
Retail Price: $33.70
Your Price: $24.89

Unit:
100/box
Item# 1691EKDYS
Retail Price: $32.70
Your Price: $14.89

Unit:
100/box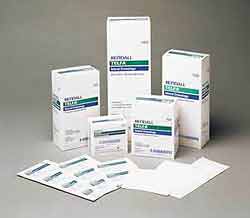 Item# 346786INM
Retail Price: $59.39
Your Price: $43.94

Unit:
100/box
When changing wound dressings, it is undesirable to have the dressing stick to the injury. This can leave debris and fibers which can slow healing or result in an infection. For this reason, many medical professionals seek out non-adhesive wound dressings to cover injuries. Since dressings should be changed as they become saturated, their ability to cleanly be removed is paramount. This asset is seen in all of our non-adhesive dressings.
Whatever your needs, we will be sure to have the non-adhesive wound dressings you seek. Many of our products have non-stick pads with adhesive tape for securing them. You can even find among our offerings dressings impregnated with wound cleansers, bacteriostatics, absorbing agents and moisturizers. These combine to create the perfect atmosphere for rapid wound healing. We also allow you to choose rolls or pads for your non-adhesive wound dressing needs. It is a good idea to have several types in stock in any medical facility since unexpected situations which would require them can always arise.
Most of our non-adherent wound dressings customers are from clinics or small medical facilities. In those areas, budgets are often extremely tight, but needs are very high. Here at Medical Supplies Equipment Company we understand this. That is why we strive to make the best quality non-adhesive wound dressings and medical supplies available to you for the lowest cost, and that cost is even lower for those in the medical arena. By signing up for our medical professionals discount you can save even more money. Please allow us one to two business days for processing your request before you order. Once you are added to our professionals discount roster, you will be able to save without having to worry about purchasing a minimum quantity. It is our way of saying thank you to those who work so hard to keep us healthy.
For those who work in medical facilities, and those who are seeking to stock home first aid kits , the need for reliable, cost effective supplies is a high priority. Among some of the most useful products which are required daily in medical facilities are non-adherent dressings . All of your supply needs here at Medical Supplies Equipment Company. We will offer you the best medical supplies and equipment for the lowest possible price. If you did not find the non-adhesive dressings you need, please post a question to our expert or contact us toll free at 1-877-706-4480, and we will find what you are looking for at the best possible price. Our goal is to serve you in all of your medical supplies and equipment needs.
Please review our other wound dressings selections below: