Home » Home Health Care Products & Supplies » Child & Pediatric Nebulizers » Child & Pediatric Nebulizers
Child & Pediatric Nebulizers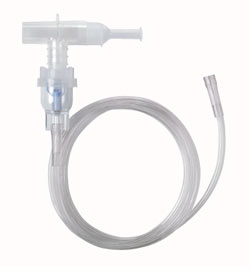 Item# 2944SCHMD
Retail Price: $183.50
Your Price: $130.47


Unit:
50/case
A child with asthma or other breathing problems must have their drugs administered in the proper manner. There are several options for giving respiratory medications to children such as child nebulizers, metered dose inhalers (MDI), breath actuated inhalers, and dry powder inhalers (DPI). In many cases, the maintenance of their symptoms is accomplished through the use of daily administration of asthma drugs such as corticosteroids. Most children older than five can give themselves these drugs through one of the inhalers, but for the very young, or should a child not be able to properly use an inhaler, he will likely need a pediatric nebulizers to deliver the medication.
Child nebulizers turn the respiratory medicine into a mist, which the child then breaths for at least five to ten minutes. It might be difficult for parents to keep their child still for the entire length of treatment. This is why many nebulizers designed for children have some sort of interactive component to engage the child and keep his interest while he is doing the breathing treatment. Many models will have a pacifier attachment to soothe the infant, but if the nebulizer is being used by an older child who is unable to wield an inhaler, a pacifier is not an option. For these children, there are now child and pediatric nebulizers that come with a set of building blocks with the machine itself serving as the base for the interlocking blocks. This has a two fold benefit in that the child is engaged, and he will not simply take the blocks to the other side of the room since he must build on top of the block base on the nebulizer. As hard as it is to keep the child near the nebulizer, he must do so to receive the entire dose of his medicine on a daily basis.
Pediatric nebulizers are one of the most effective methods of giving very young children and infants their inhaled medications. Since the drug is turned into a mist, the amount of the drug required is higher than with an inhaler. This is to ensure that the child receives the full dosage to help treat and maintain his asthma symptoms. A child nebulizer should only be used if the child is too young for an inhaler. This is because of the higher concentration of the drug, and thus higher risk of side effects, as opposed to the inhaler. Nebulizers should never be shunned for this reason, though, since by taking asthma treatment drugs is the only way to control symptoms and potentially save the life of the child. The need for medication must always come first, no matter how it is administered.
If you did not find the child nebulizer you are looking for, please post a question to our expert or contact us toll free at 1-877-706-4480, and we will find what you are looking for at the best possible price. Please review our other nebulizer selections: