Home » Home Health Care Products & Supplies » Pediatric Nebulizers » Pediatric Nebulizers
Pediatric Nebulizers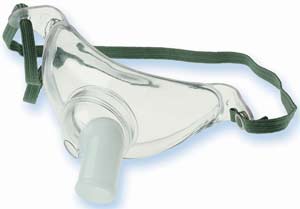 Item# B1264SCHMD
Retail Price: $126.72
Your Price: $90.85

Unit:
50/box
Item# 0188785HATMD
Retail Price: $992.79
Your Price: $767.89

Unit:
10/case
Item# 1190QMDRV
Retail Price: $100.94
Your Price: $64.30

Unit:
single
Even children can suffer from asthma severe enough to warrant the use of a pediatric nebulizer. Look no farther than here at Medical Supplies Equipment Company for a selection of pediatric nebulizers to fill the specific needs of young patients while comforting them during treatment.
Pediatric nebulizers work by forcing air through a liquid medicine. This then is turned into a breathable vapor, which is inhaled through either a mouthpiece or a mask. Inhalation is the best method of taking these drugs since they target the lungs, and if taken in a pill form, they would have adverse effects on the body. A pediatric nebulizer must be used according to the pediatrician's instructions. If all of the medicine is not taken, the benefits of the drug are lessened or lost. This means that the parent cannot just blow the medicated vapors past a sleeping child. The patient himself must use either the mouthpiece or the mask that came with the pediatric nebulizer.
Most young patients are scared to use nebulizers for children. For the medication to work properly, though, it must be actively inhaled. That is why pediatric nebulizers are designed in colorful styles that appeal to children. You could even opt for a model with building blocks on it for an engaging activity which can distract the child as he is using the nebulizer. Sometimes, the only way that a child will use a nebulizer is if he is reclining or laying down in bed. Look for a pediatric nebulizer that will allow for the treatment in one of these positions.
After using a pediatric nebulizer, be certain that the patient's mouth is rinsed out to prevent thrush from forming from medication left in the mouth. The child will likely co-operate with this since many breathing treatments leave a bad taste in the mouth. The pediatric nebulizer must also be thoroughly cleaned before and after use. This will prevent bacteria and mold growth in the unit. All of the parts must be kept clean and maintained. You will find that after a while, some of the parts will need replacement. You can find spare nebulizer parts here.
Many of our pediatric nebulizer customers are patient's parents, or they are from clinics or small medical facilities. Often for these people, budgets are often extremely tight, but needs are very high. Here at Medical Supplies Equipment Company we understand this. That is why we strive to make the best quality pediatric nebulizers and medical supplies available to you for the lowest cost, and that cost is even lower for those in the medical arena. By signing up for our medical professionals discount you can save even more money. Please allow us one to two business days for processing your request before you order.
If you did not find the pediatric nebulizer you are looking for, please post a question to our expert or contact us toll free at 1-877-706-4480, and we will find what you are looking for at the best possible price.
Please review our other nebulizer selections: