Home » Home Health Care Products & Supplies » Portable Wheelchair Ramps » Portable Wheelchair Ramps
Portable Wheelchair Ramps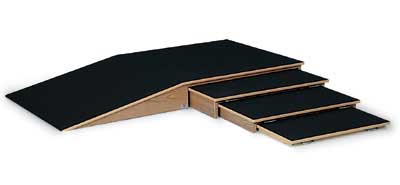 Item# 0021HSM
Retail Price: $1,819.12
Your Price: $1,494.89

Unit:
1 set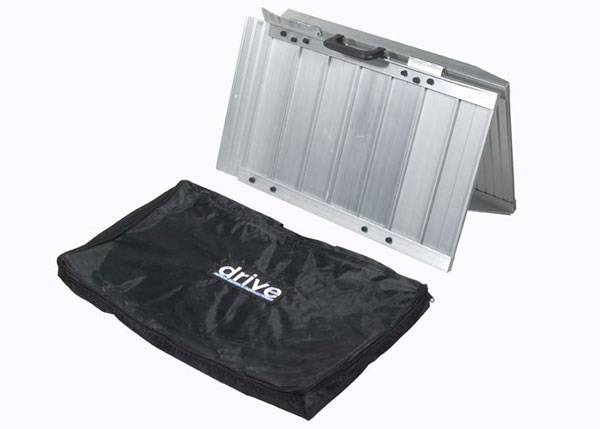 Item# 7901SDTSDRV
Retail Price: $398.92
Your Price: $313.80

Unit:
single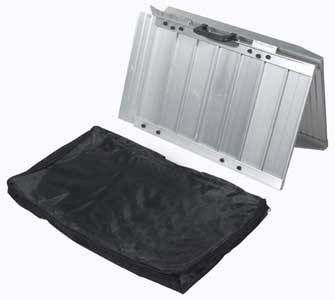 Item# 6901SDTSDRV
Retail Price: $490.49
Your Price: $218.73


Unit:
single
People with a range of mobility problems who daily require the use of wheelchairs typically have a need for portable wheelchair ramps to improve their independence and freedom of movement around multiple environments. Portable wheelchair ramps are designed to enhance mobility in and around the home, place of work, and the local community. The portable wheelchair ramps in our inventory are convenient and easy to use, often without the assistance of a caregiver. When wheelchair users take long journeys away from their homes, they usually have to transport a wheelchair in a motor vehicle and will often need the assistance of a portable wheelchair ramp to load their wheelchairs inside. Portable wheelchair ramps also become necessary once they reach their destination.
Portable wheelchair ramps offer loading and unloading convenience unmatched in alternative methods. Several alternative methods by which a wheelchair can be loaded into a vehicle include using a tail lift, a hoist, a fold-down wheelchair ramp, or a portable wheelchair ramp. Tail lifts, hoists, and fold-down ramps require expensive vehicle adaptations and can't be installed in sedans or smaller vehicles. Portable wheelchair ramps offer a cost-effective solution to this problem, with the additional advantage that they can be used to access steps, walkways, buildings, and other transportation systems. Portable wheelchair ramps are also commonly used as temporary measures until permanent ramps, constructed of wood, concrete, or metal, can be installed and fitted.
Portable wheelchair ramps are available in a wide range of designs, materials, and configurations. Accordingly, the needs of wheelchair users and caregivers should therefore be accommodated. If the needs of everyone involved are clearly identified and the ramps are selected with the appropriate combination of features, then both wheelchair user and caregiver will be properly equipped.
The design, size, portability, and use of wheelchair ramps currently available on the market vary greatly. Therefore, clear information and instructions are required to ensure that ramps are used correctly. The items featured in our on-line catalog are the finest on the market and contain everything needed for safe operation. Below are some brief profiles of different models we carry.
Telescopic Portable Wheelchair Ramp . This model extends from 3 ft. to 5 ft. to 7 ft. Each rail has 6 ½ in. inside width and weighs 17 ½ lbs. It features an extra safety bolt attachment, a 20 ½ in. maximum rise and weighs a total 35 lbs. 10 ft. models are also available.

Portable Suitcase Wheelchair Ramp . This model is designed to bridge the gap over steps, curbs, and raised landings. It's convenient, compact, and easy to use. Simply unfold the hinged ramp and position it for maximum safety and support. It quickly folds in half and can be carried like a suitcase. It's made of heavy-duty aluminum, with a 600 lb. weight capacity, and features a durable, non-skid platform with a useable width of 29 in. It comes in models ranging from 2 ft. to 5 ft. in length with a total weight of 33 lbs.

Tri-Fold Suitcase Portable Wheelchair Ramp. This lightweight aluminum ramp features non-skid surface and folds down to carry like a suitcase. It features a 6 ft. ramp length with a 30 in. width. 7 ft. and 10 ft. models are also available.

Roll-Up Portable Wheelchair Ramp. This model easily rolls up for carrying and comes with two side rails and a carrying case. It extends to 3 ft. in length with an 8 in. rise. It has a total weight of 16 lbs. 5 ft. and 8 ft. models are also available.
After browsing our inventory of portable wheelchair ramps, please call us toll-free at 1-877-706-4480 for any questions or assistance.