Home » Home Health Care Products & Supplies » Antifungal Powders & Creams » Topical Antifungal Creams » Dimethicone Antifungal Barrier Cream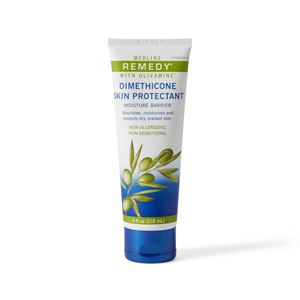 Dimethicone Antifungal Barrier Cream
Retail Price: $11.20
Your Price: $9.88
You Save: $1.32


Dimethicone Antifungal Barrier Cream
Item# H415490CSMMD
Designed as a long-lasting moisturizer and thin moisture barrier, this doctor formulated, scientifically proven cream is ideal for relieving the discomfort associated with light incontinence or diaper rash.
It provides a breathable moisture barrier to protect against moisture, soothes chapped, cracked skin and helps relieve itching.
Formulated o help block transepidermal water loss (TEWL), pH balanced Remedy moisture barriers are the only ones that blend amino acids, antioxidants, vitamins and MSM for advanced care.
Active ingredient: dimethicone (5%). Also contains natural oils and organic aloe vera.