Home » Home Health Care Products & Supplies » Pregnancy & Baby Supplies » Empathy Belly Pregnancy Suits » Empathy Belly Pregnancy Simulator (Large)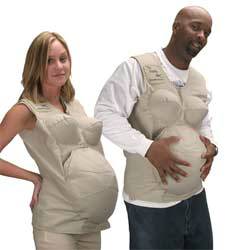 Empathy Belly Simulator (Large)
Retail Price: $1,213.53
Your Price: $1,052.41
You Save: $161.12


Empathy Belly Pregnancy Simulator (Large)
Item# 79999WA3BS
Features:
One torso garment
Two (2) pregnant breast, inserts
One custom rib belt
One vinyl belly bladder containing one 2-lb. weight
Two (2) 7-lb. weights
One safety holding tray
One 6-lb. bladder pouch
One maternity smock
One science-based manual and laminated flashcard
One instructor training DVD
One laminated, color poster on 3rd trimester of pregnancy
Thirty (30) informed consent releases
One bottle water conditioner
One vinyl repair kit
One nylon tote carrying bag
Manufacturer warranty: one year.