Home » Home Health Care Products & Supplies » Antifungal Powders & Creams » Antifungal Powders » Remedy Antifungal Powder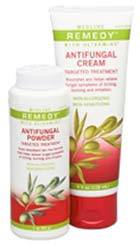 Remedy Antifungal Powder 3 oz.
Retail Price: $98.57
Your Price: $82.49
You Save: $16.08


Remedy Antifungal Powder
Item# 306490CSMMD
This product treats most common fungal infections including: tina pedis (athlete's foot), tinea cruris (jock itch) and tinea corporis (ringworm).
Help relieve itching and burning.
The powder is talc-free and stays in place for extended periods of time.
Contains miconazole nitrate (2%), Olivamine and natural ingredients including organic alow vera and natural oils.
Olivamine is a blend of antioxidants, amino acids, vitamins and methylsulfonylmethane (MSM).
These ingredients are all known to play a vital role in basic cellular construction and protection.
Olivamine contains antioxidants like hydroxytyrosol, the most potent antioxidant known today (derived from olives).
It also contains amino acids like L-proline, L-cysteine and glycine - three of the main building blocks of collagen.
These components are also treated with photoacoustic resonance to help minimize the tendency for inflammation, and to ensure they can be rapidly accepted by the skin.