Home » Home Health Care Products & Supplies » Diabetic Socks » TheraSock Double Sock System/ THERAFOOT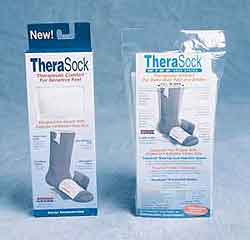 Retail Price: $28.17
Your Price: $20.57
You Save: $7.60



TheraSock Double Sock System/ THERAFOOT
Item# CW-CBMSHTGSI
Medium
Men's Shoe Size: 6-9
Women's Shoe Size : 7-10
Therapeutic comfort for people with diabetes,arthritis, foot pain, severe edema.
Help prevent blisters, corns, calluses and other skin injuries.
Feature Non binding construction, invisible padding, buried toe seam. No elastic band at top for proper circulation and comfort.
Microsafe antimicrobial fibers provide built-in protection against bacterial and fungal growth.
Coolmax fibers wick away moisture.
Elasticized arch provides support, comfort and proper fit.
Durable and 100% colorfast.