Home » Home Health Care Products & Supplies » Personal Hygiene Products » Wall Mounted Soap Dispensers » Touchless Automatic Soap Dispensing System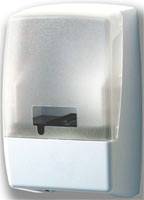 Unit:
single
QTY


Retail Price: $131.33
Your Price: $109.90
You Save: $21.43


Touchless Automatic Soap Dispensing System
Item# HOTUADEMMD
Features:
This touchless dispenser fits all of the protection plus soap, lotion and sanitizer bags, both 800ml and 1000ml.
The touch-free operation helps prevent transfer of pathogens.
It also has a selectable pre-measured dispensing feature, allowing 1ml, 3mls or 5mls to dispense in one application.
The rugged and reliable design allows for use throughout the entire patient floor, or even in the waiting area.
It is powered by 4 D-cell batteries, that typically allow for 9-12 months of use, depending on frequency of use and product viscosity.