Home » Rehabilitation Equipment & Products » Back Cushions » Keri Back Seat Cushion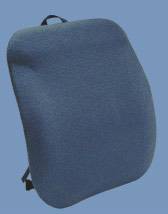 Retail Price: $137.58
Your Price: $111.51
You Save: $26.07



Keri Back Seat Cushion
Item# 131CCMMM
Features:
A steel frame and rubber stays help this back cushion provide far more support than any foam only products.
Can be used at work in office chairs, at home on the couch, or in the car.
The strapping system is easily adjustable to secure in place after it is positioned.
Straps can be either horizontal or vertical, simply choose which version you would like.
The vertical straps are perfect for those with seats that are too deep or concave for the traditional horizontal straps.
Complete with internal comfort memory foam, this seat will provide maximum comfort while supporting your spine.