Home » Rehabilitation Equipment & Products » Electrotherapy Accessories » Nylatex Wrap » Nylatex Wraps - 2 1/2 in. x 18 in.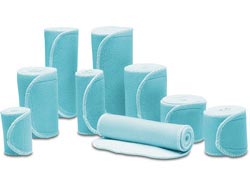 Retail Price: $24.50
Your Price: $19.89
You Save: $4.61



Nylatex Wraps - 2 1/2 in. x 18 in.
Item# 812517THCMM
Features:
Made from a stretchable, laminated loop material that is ideal for holding cold packs as well as therapeutic electrodes in place, ensuring good contact
Also makes excellent slings and extremity wraps
Safely secures electrodes and cold packs to patients.
Variety of sizes for multiple applications.
Sold individually.