Home » Medical Uniforms Medical Scrubs Apparel » How to Pick a Great Medical Coat » How to Pick a Great Medical Coat
How to Pick a Great Medical Coat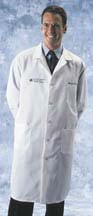 Item# ET05THW41TDMMD
Retail Price: $48.86
Your Price: $31.77

Unit:
single
Item# XX508640TDMMD
Retail Price: $50.16
Your Price: $40.57

Unit:
single
There are lots of tools and accessories any medical professional needs to get through his or her day. It's necessary to have a well stocked office or hospital environment. The doctor or nurse also needs to be sure they have the proper apparel to function correctly during the day. The medical coat can make all the difference between feeling prepared and having an off day. These pieces of clothing may not seem very important to the overall function of a medical professional, but they really are. Let's take a look at some of the features you should make sure are present in every medical coat you ever buy.
The most important aspect of any medical coat is the workmanship that went into its creation. It's no different than buying a fine pair of shoes or boots, your medical coat has to be made to last and be comfortable to work in. The stitching in medical coats is incredibly important. You will want to look for a medical coat with the front facing sewn down. The last thing you want to have to worry about is the facing peeking out and getting in the way of caring for patients. You can expect a medical coat with topstitching on the back, shoulders, and sleeves to last for quite some time without needing repair or to be replaced. It makes sense to look for quality when you purchase your other medical supplies, your medical coat shouldn't be any exception.
Looking for reinforced stitching on the pockets and corners of the medical coat will also ensure that the coat is going to last. Speaking of pockets, for plenty of room, the medical coats that feature large exterior pockets and two or three interior pockets are going to be the most useful. You have to have a place to carry your pens, stethoscope, and other necessary items. It won't do to be in front of a patient and figure out that you don't have the things you need to properly examine them.
Another feature of the medical coat you can't afford to ignore is the material it is made out of. Most medical coats are made from a combination of cotton and polyester. This blend promises great durability, stain resistant qualities, and good looks for a long time. Your other option is going to be to go with a pure cotton medical coat. In both the cotton-polyester blend and all cotton choices, you can pick from light or heavy material weights. Your personal comfort and the seasons of the year will have a lot to do with which weight is going to be best for you.
Regardless of your career, everyone likes to have a personal touch here and there. You can have your medical coats personalized with embroidery or even choose unique colors if you like. The important part is to be comfortable with your choices. For those who need customized sizing, the right medical supply company should be able to help you with getting medical coats in the correct sleeve and coat lengths.
MSEC remains dedicated to stocking the very best and the very latest in medical supplies and equipment. We never cease to be on the lookout for the latest innovation that will benefit both our many clients and the patients they dedicate their lives to caring for. If you have any difficulty finding your choices in our vast inventory, call our customer service at 1-877-706-4480 to speed up your order or to make a special request. We are always happy to help you.