Home » Medical Uniforms Medical Scrubs Apparel » Patient Comfort is Paramount with Patient Gowns » Patient Comfort is Paramount with Patient Gowns
Patient Comfort is Paramount with Patient Gowns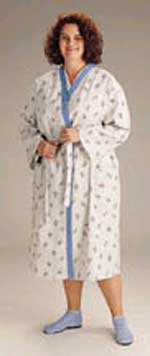 Item# ZXXX512110TDMMD
Retail Price: $205.55
Your Price: $171.67

Unit:
12/case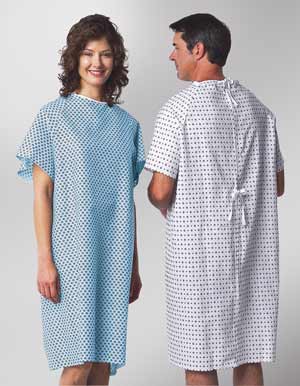 Item# MEDBSR3GPTDMMD
Retail Price: $451.45
Your Price: $414.64


Unit:
72/case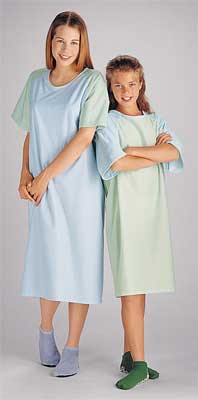 Item# VI073110TDMMD
Retail Price: $430.63
Your Price: $358.86

Unit:
24/case
As a healthcare professional you know that the most important aspect of patient care is being able to access the patient's body and take care of the injury or illness. When you take the clinical point of view, the idea of personal modesty is often forgotten. It makes perfect sense to just get in there and take care of what needs done, but it's imperative to remember the social niceties and not forget that in order to cooperate and heal properly the patient really does need to be comfortable. This is the whole idea behind the patient gown in the first place. By taking a closer look at the available patient gowns, you will be in a better position to order the best product for your practice or hospital department.
Your most important goal everyday is to assist patients and try to ensure good health. That goal comes in front of everything else. Naturally, the patient in front of you wants to feel better or get the exam over with, or whatever they are in the office for. The biggest difference between the two of you is that the patient also wants to ensure that their dignity remains intact. When you are buying patient gowns for your use, be sure to look for those designs that allow for you to do your job properly, but that will also allow the patient the highest degree of comfort possible. There are some features to keep an eye out for that will help with this goal.
Let's take a look at the most popular type of patient gown in the normal general practice office, the paper gown. There is simply no way to make anyone feel comfortable in these gowns. Paper simply doesn't move with the body the way fabric does. However, these gowns are good for quick, efficient exams that don't require the patient to wear it for very long. An added bonus is that they can be recycled. For the eco friendly medical office, that feature could be considered a benefit.
For the patient gown that will get rave reviews, or the best any patient gown can hope to accomplish, it's better to go with the patient gowns made from cotton or a cotton-polyester blend. They are much better at moving with patient, feel better against the skin, and at least feel like clothing somewhat. Depending on the type of practice, patient gowns are made to break away at the shoulders which are a helpful feature for putting in an IV, performing a mammogram, and helping a new mom to nurse. Just like the paper patient gowns, the fabric versions are available in a huge variety of sizes, colors, and designs as well. Since the patient has to wear a gown, it's a thoughtful gesture to offer one that is pleasant to look and as comfortable as possible.
Patient gowns also make it easier for doctor's office and hospital staffs to perform their duties and take care of the patient properly and as discreetly as possible.
MSEC remains dedicated to stocking the very best and the very latest in medical supplies and equipment. We never cease to be on the lookout for the latest innovation that will benefit both our many clients and the patients they dedicate their lives to caring for. If you have any difficulty finding your choices in our vast inventory, call our customer service at 1-877-706-4480 to speed up your order or to make a special request. We are always happy to help you.