Home » Emergency Medical Supplies » Defibrillator: A Life Saving Device » Defibrillator: A Life Saving Device
Defibrillator: A Life Saving Device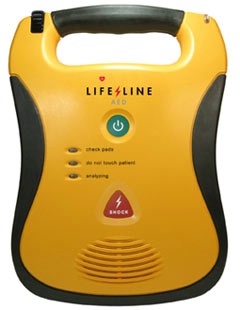 Item# NE-001A-FCDDFT
Retail Price: $1,995.00
Your Price: $1,578.92

Unit:
single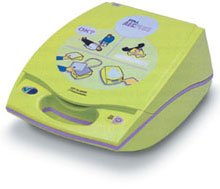 Item# 011021112LOZINM
Retail Price: $2,599.00
Your Price: $2,245.00

Unit:
single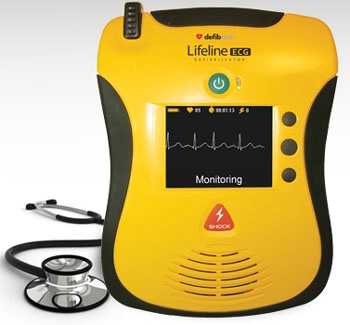 Item# NE-0642A-FCDDFT
Retail Price: $3,898.99
Your Price: $2,930.78

Unit:
single
Current statistics from the American Heart Association show that more than 200,000 Americans die of sudden cardiac arrest every year and up to 50,000 of these deaths could have been prevented if automated external defibrillators had been available for immediate use at the time of the emergency.
Defibrillators are medical devices used for defibrillation of the heart. Heart defibrillators have a set of two electrodes attached to a central unit. The central unit provides cardiac defibrillators a source of power and control. The two electrodes are placed directly on the patient. The device is designed to deliver an electric shock to the patient in an attempt to stop ventricular and atrial fibrillation of the heart.
The first reported case of external defibrillators saving a human life was in 1947. Claude Beck successfully revived a patient in an operating room using an open-chest electric defibrillation device.
A major technological advance was the development of portable defibrillators in 1966. These devices were developed in Belfast, Ireland by cardiologist Frank Pantridge. These portable heart defibrillators became suitable for installation in ambulances. The next great leap of innovation was the development of automated external defibrillators. This led to the mobilization of advanced cardiac life support for EMTs, paramedics, police officers, and other first responders.


AED defibrillators are self-contained, portable appliances designed for easy use. Most automatic electronic defibrillators look somewhat like a briefcase, easily carried by a handle. Automatic defibrillators contain a battery, a control computer, and electrodes. When the electrodes are placed on the person, the computer will determine the type of rhythm or arrhythmia present. The control computer will then set necessary power levels and signal that a shock is needed. AEDs will not allow a shock to be delivered if the person does not require defibrillation. Once given the signal to administer a shock, the operator must be certain no one is touching the person and then manually press a button to deploy the shock.


Due to their simplistic design, easy operation, and cost efficiency, modern automated defibrillators are now accessible to the general public. They can be found in corporate offices, shopping malls, sports stadiums, college campuses, casinos, airports, schools, community centers, and other places where large groups of people gather and the risk of unexpected cardiac arrest incidents are very likely. As more people begin to understand the importance of AEDs and AED training, the number of devices in the community will continue to grow.
If you're not sure of purchasing an AED or not, consider this: the American Heart Association states, "The cause of sudden cardiac arrest is not well understood. Many victims have no history of heart disease, or if heart disease is present, it has not functionally impaired them. Unlike a heart attack, which is the death of muscle tissue from loss of blood supply, many victims of SCA have no prior symptoms. SCA can strike anyone, at any time, anywhere."
With that in mind, if you or someone you know has a heart condition and is vulnerable to a heart attack, purchasing an AED for your home is highly advisable. If you're a business owner, purchasing an AED is a fantastic way to show your employers and customers that you're concerned for their welfare. Keep in mind that when the heart stops, there are only a few minutes before brain damage begins and death is imminent. If the response time for your local paramedics is five minutes, a fair estimate for many places, brain damage has most likely started.
MSEC remains dedicated to stocking the very best and the very latest in medical supplies and equipment. We never cease to be on the lookout for the latest innovation that will benefit both our many clients and the patients they dedicate their lives to caring for. If you have any difficulty finding your choices in our vast inventory, call our customer service at 1-877-706-4480 to speed up your order or to make a special request. We are always happy to help you.