Home » Home Health Care Products & Supplies » Hoyer Lift & Slings: Ease the Strain on the Patient & Caregiver » Hoyer Lift & Slings: Ease the Strain on the Patient & Caregiver
Hoyer Lift & Slings: Ease the Strain on the Patient & Caregiver
Item# 2091CHT
Retail Price: $2,344.16
Your Price: $2,080.20

Unit:
single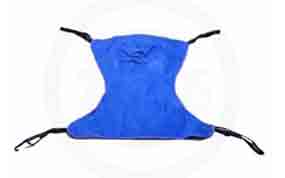 Item# 22231DRV
Retail Price: $185.20
Your Price: $137.33

Unit:
single
Without a trained patient lift team to assist in moving a bed ridden patient, a patient lift, also referred to as a hoyer lift, is a vital piece of equipment to have. Though it's not impossible to move a patient manually without the use of a patient lifter or a hoyer lift, the potential for injury to both patient and caregiver is dynamically increased without the assistance of one. The patient lifts and hoyer lifts in our inventory are designed to provide both caregiver and patient the stability and security necessary to ensure all patient moves are conducted safely and smoothly. From electric patient lifts, portable patient lifts, to patient lift slings, we can provide you with any patient lifter, hoyer lift, and accessory you need. The hoyer lift and patient lift systems we supply are so strong and durable it's like having your own lift team working for you.
For ease and convenience, a popular choice of nurses and nursing managers is the fully electric Electric Patient Lift. This exclusive hoyer lift has a powder coated carbon steel constructed frame. This lifter features a standard low profile base with a 4 ½ inch clearance. It has two 3 inch casters in the front and two 4 inch locking casters in back. It has a state of the art electronic system, including an emergency lowering button. Along with the absence of an adjustment handle, the compact power pack allows the caregiver to be closer to the patient during the move. The new foot propel design opens and closes the base legs with ease and eliminates the need of an adjustment handle. It can accommodate all types of slings as well as accommodating the needs of bariatric patients. The hoyer lift unit itself only weighs 105 pounds but can hoist nearly five times its weight, safely lifting a patient weighing up to 500 pounds.
The Deluxe Patient Lift has a maintenance-free hydraulic cylinder that provides smooth patient lifts with effortless operation for the caregiver. Its heavy duty construction features special reinforcements for long lasting durability. This hoyer lift features an adjustable leg base with 3 inch casters that can lock while parked and in use. Though the unit only weighs 76 pounds, it can hoist a patient weighing up to 400 pounds.
The Basic Patient Lift model is much like the deluxe model except for two significant design features. First, this hoyer lift is constructed with a "C" style base with 3 inch locking casters. Secondly, though it can lift a patient weighing up to 400 pounds, at 69 pounds the unit itself weighs a little less than the deluxe hoyer lift.
Specially designed for the bariatric patient, the Bariatric Patient Lift features super heavy-duty steel construction. This hoyer lift was also constructed with state of the art welding technology for extra strength and durability. The lift itself weighs 258 pounds but it's remarkably easy to move with its six casters. The most important feature of this bariatric lifter is that it can securely raise a patient weighing up to 1,000 pounds.
To ensure your patient lifter comes complete and ready to use, don't forget to purchase lifter slings. We offer a variety of hoyer lift slings to choose from: the Universal Chain Sling, the Commode Chain Sling, the Chain Free Sling, the Commode Chain Free Sling, and the Bariatric Chain Sling.
Patient lifters and hoyer lifts are without a doubt one of the most crucial pieces of equipment a caregiver needs for immobile patients, patients who have difficulty moving, and bariatric patients. After browsing our inventory, don't hesitate to call us toll free at 1-877-706-4480 if you have any questions regarding our product line or need any assistance. All lifts feature heavy duty construction and lifetime warranties on frames.