Home » Hospital & Durable Medical Equipment » Medical Tables » Medical Tables
Medical Tables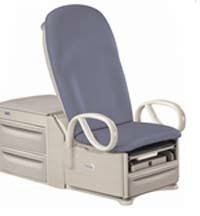 Item# X0056BWR
Retail Price: $8,795.02
Your Price: $7,984.29
ships w/i 5-10 days
Unit:
single
As with most equipment in the medical field, medical exam tables continue to evolve with technology. New options available on these essential pieces of equipment can be instrumental in providing patient comfort, security and support. In addition the same features also make life for staff a lot easier. Getting to know the different options that are possible will help you in determining just what type of table to upgrade to with your next purchase.
One of the essential new features in many of the bariatric and standard types of medical exam tables is the hi-lo design. This is a table that can be easily lowered to the height of approximately that of a standard chair allowing a patient easy access to the table. When the patient is comfortably seated on the table it can be raised to the desired height for the medical professional. This is the perfect option for patients with mobility problems, seniors or patients with physical limitations that have difficulty in getting on and off standard types of examination tables.
Another great feature of this option is the power back. With this a foot control can be used to move the back section of the table to the desired incline. For many types of examinations this is a far superior option for the doctor than a standard flat table. The benefit of the power lift and recline feature is that the patient experiences a smooth transition without the jerking sensation that occurs when the backrest is inclined or reclined manually. Staff will very quickly appreciate this option as it prevents any stress and strain in positioning patients.
Various other options in medical exam chairs are designed for specific types of procedures. A podiatry chair has a fully adjustable foot section that allows the correct positioning of the foot and leg. With an available debris tray and the option to attach an operating light even the most challenging examination or minor surgical procedure can be done right in the office.
OB/GYN medical exam tables have additional features that are designed to make any type of examination as easy as possible for both the patient and the doctor. Fully adjustable stirrups, extending leg section, adjustable back and comfortable vinyl top pads all add to comfort for the patient. The handy storage areas build into the base of the unit combined with debris tray and multiple options for patient positioning makes this an excellent table for virtually any general practice or OB/GYN specialization.
For a multiple use table a motorized procedure table provides Trendelenburg positioning, a pull out foot rest, stirrups, safety rail and standard safety straps. This table can be adjusted to a comfortable height for the medical staff and has a motorized back for quick patient positioning. Easy to move since it is on casters, this type of examination table can be used in an office or for minor or major surgical procedures. It is the table of choice for use with ultrasound tests and in offices with a wide range of different patients.
Additional options on the market for medical exam tables include tables with power outlets, fully programmable power tables and various foot and hand control options with the power models. In addition there are low access tables that allow patient transfers to and from wheelchairs to be completed easily and safely fo