Home » Hospital & Durable Medical Equipment » Utility & Janitorial Carts » Utility & Janitorial Carts
Utility & Janitorial Carts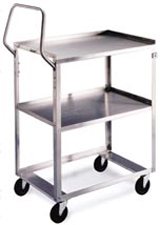 Item# 0166LKE
Retail Price: $564.58
Your Price: $422.78

Unit:
single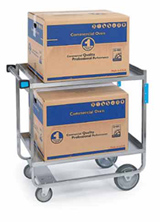 Item# 017LKE
Retail Price: $1,034.00
Your Price: $660.89

Unit:
single
Every healthcare environment has multiple needs for utility carts. We carry a wide selection of utility carts that will serve a variety of purposes in any exam room or treatment room. Included in our on line catalog is a versatile line of utility carts for you to consider. From plastic utility carts to metal utility carts, we carry rolling utility carts, stationary carts, and mobile utility carts. All of our medical utility carts come with a dynamic range of options and features that are sure to satisfy your needs.
Before purchasing your medical utility utility carts there a few factors to consider. Most importantly is the intended purpose of the cart. Do you need a cart for instrument storage? We have units to suit you. Do you need a cart to store anesthetics, narcotics, and/or antibiotics? We supply those as well. Is security is an issue? We supply carts with and without locks on doors and drawers. Do you need a unit that is stationary or mobile? We supply both types. What material do you need your cart to be made of? We carry units made of stainless steel, industrial strength aluminum, and units constructed of heavy-duty plastic. The aesthetic appeal of your medical utility carts can be just as important as their purpose. This is why many of our modular units can be ordered with a wide variety of color options to coordinate with the surroundings of your professional medical environment.
It will be useful to consider our line of Utility Cart Accessories before making your final decision on the particular carts you need to purchase. Who wants to be caught short-handed without the necessary equipment and accessories while treating a patient or during a patient exam? Nobody. This is why we carry a wide variety of items to accessorize your carts that will enhance their utility. There are Push Handles to account for, as well as Utility Hooks, Utility Receptacles, Waste Containers, and Utility Baskets. These accessories are designed to keep all healthcare professionals well prepared, organized, clean, and neat.
Our on-line inventory is designed with all of your medical furnishings in mind. Our product line was made to match your existing furniture and/or new purchases. The products we carry will accessorize nicely with our Exam Tables, Modular Cabinets, Utility Tables, and more.