Home » Lab Equipment Supplies » What To Expect With An At Home Drug Test » What To Expect With An At Home Drug Test
What To Expect With An At Home Drug Test
Item# ASAC5GURDMD
Retail Price: $209.92
Your Price: $175.32

Unit:
25/case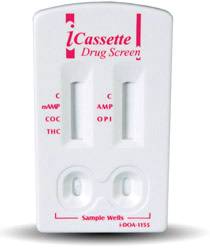 Item# CSAC5GURDMD
Retail Price: $209.92
Your Price: $175.32

Unit:
25/case
There are many reasons why an at home drug test kit may be an important consideration. The vast numbers of at home drug test kits are] purchased by parents that are concerned that their child or children are using drugs. Other reasons may be for a person that has been exposed to drugs to take a home test to ensure they won't be a problem on a mandatory or random type of drug test offered through the workplace. Regardless of why you are considering an at home drug test, there are some key factors that you need to know to choose the right test.
Many at home drug test kits are designed to only test for specific drugs, the most common being THC (marijuana) or cocaine. Single at home drug test kits only test for the one specific drug, which can be helpful if you know exactly what drug you are testing for. The major concern with this type of at home drug test is that if you select the wrong kit it will not indicate the presence of the actual drug in the individual's system and will give a negative reading for the target drug. Single at home drug tests can include those for groups of drugs as well. Drug tests labeled BZO will test for the most common drugs within the group of benzodiazepines including Ativan, Xanax, Valium and Diazepam among others.
Methamphetamines including those drugs going by the street names of Ecstasy and Speed are also common to test for in at home drug test kits. Often these are combined with opiate tests that include morphine, heroin, oxycontin and oxycodone and hydrocodone. These wide spectrum tests may be appropriate when drugs are suspected but the parents or the tester is unsure of what drug is being used. There are also specific at home drug test kits available to check if the individual has used tobacco; amphetamines with street names include crank, meth or crystal, or phencyclidine, also known as PCP or Angel Dust.
Most at home drug test kits will use a urine sample as the testing fluid but some will also use a saliva test. It is important for the tester to know how long since the drug has been ingested, consumed or injected since there is a period of time until it can be used to test using either urine or saliva. In most cases a minimum time of 2-6 hours after consumption is required before the test can be administered with an accurate reading. In addition the drug will be eliminated from the system within a time period, which depends on the type of drug as well. Some drugs such as TCH will stay in the body for up to 10 days for infrequent user but up to 6 weeks for a chronic user.
Reading an at home drug test is very straightforward. In the case of a urine test the subject collects urine in a small plastic cup, similar to the collection done at a doctor's office. Pre-packaged and treated strips are then dipped in the urine or a small sample of urine is placed in a test device. In both types of tests lines or bars will form after a set amount of time which ranges from two to ten minutes or as per the instructions. Within the test kit a reference chart is provided to read or interpret the results from the test kit.
Saliva at home drug test involves swabbing the inside of the mouth with a prepared, prepackaged sterile swab, then inserting the swab into the testing device. The results of the test are then displayed in a window in the device, indicating either a positive or negative result for each of the drugs or substances the kit tests for.
MSEC remains dedicated to providing the very best and the very latest in medical supplies and equipment. We never cease to be on the lookout for the latest innovation that will benefit both our many clients and the patients they dedicate their lives to caring for. If you have any difficulty finding your choices in our vast inventory, call our customer service at 1-877-706-4480 to speed up your order or to make a special request. We are always happy to help you.