Home » Lab Equipment Supplies » Safety Glasses Side Shields For Optimum Eye Protection » Safety Glasses Side Shields For Optimum Eye Protection
Safety Glasses Side Shields For Optimum Eye Protection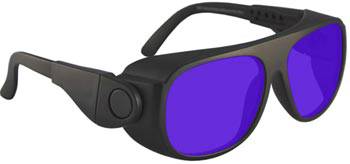 Item# 66-3GB-SLPSP
Retail Price: $240.00
Your Price: $186.00

Unit:
single

Item# 573-3GB-SLPSP
Retail Price: $250.00
Your Price: $193.75

Unit:
single
Item# 808-3GB-SLPSP
Retail Price: $250.00
Your Price: $193.75

Unit:
single
When working in a lab, research or hospital setting there are many important safety features to consider. Protecting your eyes from material, debris, chemicals and even radiation exposure is essential and most people are very accustom to wearing some type of protective glasses. However and important consideration with safety glasses, the side shields, may not be something that you routinely use. If you don't and you work in any area where radiation, chemicals or debris is present they are definitely something you should consider.
Safety glasses side shields can be clear plastic or they can be more a part of the actual frame at the temple. The side shield basically connects the lens frame with the temple arm, adding a side protective feature to the glasses. In imagining areas this is an extremely important consideration to prevent eye exposure to even minute amounts of radiation. Since radiation exposure builds up over time in the eye, eliminating or minimizing even the smallest risk is critical, particularly for technicians, radiologists, doctors and staff that has frequent exposure in these environments.
Other areas of the facility also need the use of safety glasses with side shields. These side shields can be instrumental in preventing chemical splash into the eye area as well as keeping materials, dust and debris out of the eye area itself. If the shields are designed with clear plastic they allow a complete range of vision without any type of restriction. Even the molded styles of safety glasses with more solid styling off the arms at the temples tend to have clear, durable plastic shields for maximum peripheral vision. The side shields may be leaded for specialized use areas where radiation exposure is a concern or they may provide addition protection from liquids and solids that may be harmful to the eye.
If you are an individual that needs prescription safety glasses, side shields are still an option and available in a wide variety of frame styles. Different types of both leaded glasses and standard lenses can be made with your prescription, preventing the need for two pairs of glasses on at one time. These glasses can be in a more aviator style with larger, rounded frames and lenses or in a sleeker aviator or wrap around style. Prescriptions can include single vision, bifocal or progressive types of lenses depending on your individual vision requirement. Typically progressive vision types of lenses are the most expensive, but even these glasses are well worth the small price to provide protection and safety.
As with any type of safety glasses, side shield types and styles come in different colors of frames and different adjustment options. Some have a universal style of bridge while others have rubberized or soft form bridges that are comfortable and secure to wear. It is always a good idea to try on a few different styles before ordering, that way you can be sure the style that you select is comfortable and meets your requirements. To order prescription leaded glasses, please print out and complete an online prescription form and fax it back to 713-706-4161.