Home » Rehabilitation Equipment & Products » Selecting Parallel Bars that Successfully Meet Patient Needs » Selecting Parallel Bars that Successfully Meet Patient Needs
Selecting Parallel Bars that Successfully Meet Patient Needs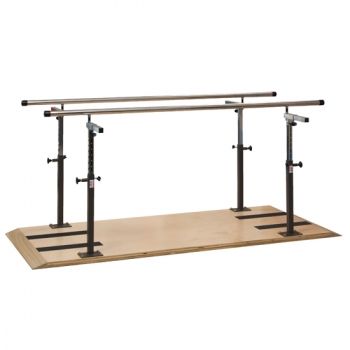 Item# XX02-3CLT
Retail Price: $1,693.25
Your Price: $1,335.60

Unit:
single
Item# 0104-3CLT
Retail Price: $1,009.46
Your Price: $871.56
ships w/i 10-20 days
Unit:
single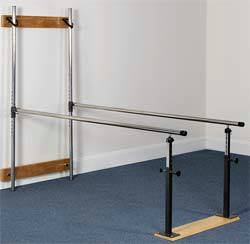 Item# 7033-3CLT
Retail Price: $1,390.29
Your Price: $985.41
ships w/i 5-10 days
Unit:
single
Parallel bars used for rehabilitation and physical therapy are important medical devices that support patients as they strive to improve impaired physical abilities, including standing, walking, gait, balance, coordination, strength and range of motion. There are numerous designs, features and specifications available in recognition of the different needs of healthcare practitioners and their patients.
Choosing the Ideal Style
The parallel bars are designed to provide the safe support that patients with different heights, weights and medical conditions require as they go through medically-directed exercises. The equipment is used in rehabilitation facilities, nursing homes, hospitals, medical clinics, weight loss clinics and occupational therapy facilities.
Some of factors to consider when purchasing parallel bars include:
Ability to accommodate patients in wheelchairs
Ability to accommodate bariatric patients
Ability to accommodate small, young children
Amount of available therapy space
Budget
Staff requirements for equipment use
Each facility has a good understanding of their patient needs. Patients in wheelchairs need a wider space between the bars and a platform with tapered ends for ease of access. To ensure the safety and comfort of bariatric patients, a unit with a wider space between bars and the ability to accommodate over 400 pounds of body weight are important features. There are special units sold by companies that are used with young children with special needs who require adaptive equipment.
The staff requirements factor is mentioned because there are manual and motorized styles. If the bar height needs frequent adjustments, the motorized version of the medical-use exerciser may be more practical than equipment requiring manual adjustments.
Space is another important consideration. If the equipment must fit in a small space, a 7-foot platform will fit better than a 15-foot platform. Some facilities need to store the parallel bars when they are not in use or not regularly used. In that case, purchasing a folding unit should be considered.
Understanding the Features
Parallel bars are made with a number of features and functionality. There is an ideal unit for every medical facility, so understanding the choices is important to making a good decision. Features to keep in mind when browsing the equipment choices include:
Platform – There are units with and without platforms. There are flat platforms, with and without tapered ends, and most have anti-trip treads. Ladder steps platforms have variably placed steps used for gait training.
Folding for storage – The rails are folded together to reduce required space. MSEC rails are 10-inches wide when folded. The collapsible wall mount unit requires only 14-inches of floor space when folded close.
Height adjustable handrails – The ability to adjust the handrails enables professionals to accommodate people of different heights. This enables the healthcare giver to adjust handrails up and down, and to adjust each rail at a different height.
Mounting style – There are free-standing platform-mounted units; wall mounted units; and floor mounted units.
Budget – The price of the parallel bars depends on the type of unit selected. The larger the unit and the more features it has, the higher the price. Prices range from approximately $600 to over $10,000 per unit.
Specifications
The parallel bars come in different sizes, shapes, materials and functionalities. They include:
Permanent or portable – Some platforms are attached to the floor or wall, while others are not attached and can be moved
Length – Standard lengths include 7-foot, 9-foot, 10-foot, and 12-foot.
Width – Widths range from 15-feet to 28-feet. The equipment may have a fixed width or the width is adjustable with motorized handrails.
Height – Units with adjustable handrail heights offer 10 height positions, ranging from 27-42 inches. The handrails are raised on telescoping uprights in increments of 1½-inches. Fail-safe locking mechanisms are added for safety. Units come with motorized height adjustments with manual crank override, or manual only.
Clearance between uprights – The standard clearance between uprights is 30-inches.
Platform width – The standard platform width is 38-inches.
Posts (non-motorized) – The posts are 1½-inch in diameter. There are 4 or 6 posts to support the handrails.
Handrails – Units have 1½-inch" or 1¨ý-inch diameter one-piece stainless steel handrails.
Materials – Materials include heavy gauge powder coated steel used in the uprights and fittings. Platforms are hardwood or covered in textured gray styrene. Some vendors offer platforms covered in carpet.
Warranties – Warranties are available for 3-5 years of coverage.
Weight capacity – Though some units support up to 350 pounds, the standard weight support is 400 pounds. There are units designed for bariatric patients that support up to 600 pounds.
Accessories and Assembly
There are a few accessories or add-ons available.
Parallel bar units normally are delivered fully assembled.
Offering Solutions
MSEC offers a wide range of parallel bars to fit most needs of healthcare professionals providing rehabilitation and physical therapy services. We offer high quality equipment designed to provide reliable, safe and long-term use. Our staff are always ready to answer questions or provide assistance. At your earliest convenience, call customer service at 1-877-4480 to discuss your specific requirements. It is our pleasure to help you meet your needs and the needs of your patients.
Balance board (used with the balance activity platform)
Removable abduction board
Balance beam