Home » Medical Supplies & Equipment » Shower Chairs Offer a Solution! » Shower Chairs Offer a Solution!
Shower Chairs Offer a Solution!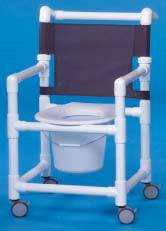 Item# P-71CSEIPU
Retail Price: $343.82
Your Price: $242.66

Unit:
single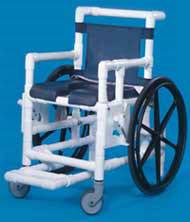 Item# NG-P-22CASIPU
Retail Price: $1,185.37
Your Price: $955.21

Unit:
single
In home health settings and in hospitals, shower chairs are critical items for a variety of reasons. Shower wheelchairs, shower commode chairs, and bariatric showerchairs all serve to assist patients recovering from surgeries and injuries or for people going through rehabilitation, physical therapy, and other therapeutic procedures. Shower chairs help people with balance and mobility problems regardless of age. They provide extra stability and security in the shower, tub, and in the bathroom in general. The possible uses of portable shower chairs are endless and it doesn't take any amount of clairvoyance to foresee the potentially wide range of purposes they can serve for both patient and healthcare provider.
There is a wide selection of adjustable shower chairs. Though they all serve similar purposes, our on line catalog features chairs that differ greatly in shapes, sizes, colors, and materials. Almost every shower chair model is adjustable and engineered to fit any spatial dimension without presenting an annoying obstacle in the shower, tub, or bathroom. The only critical distinction, beyond their functionality or design, is found in their different weight capacities. This is critical, but be sure to evaluate your needs in this area since this will be a major factor to consider before purchasing one model over another.
If you've been searching for mobile shower chairs to assist patients or loved ones, it may be beneficial to consider other mobility and balance concerns they may have. We understand more than most how important it is to remember mobility problems don't simply exist in the shower or bathroom. There are a myriad of solutions to mobility problems that people have. To meet these needs, we carry a wide variety of mobility products that will provide increased independence and a better quality of life in the home and in public.


Once you have evaluated the specifications of our shower chairs and have accounted for other problems that have been previously suggested, making a well informed purchase won't be difficult. Look for an extensive selection of medical shower chairs that are modular and thereby able to fit any space requirement in both homecare and healthcare environments. Most shower and commode chairs are light, durable, highly portable, and designed with heavy duty construction to withstand long term use. Every chair we supply is also slip resistant. For use in the bathroom, we also carry basins, commodes, and other shower & bath aids.

.