Home » Medical Uniforms Medical Scrubs Apparel » Hospital Gowns are More Than Paper Cutouts » Hospital Gowns are More Than Paper Cutouts
Hospital Gowns are More Than Paper Cutouts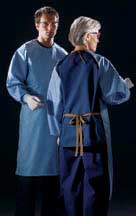 Item# MCLB6366MD
Retail Price: $20.06
Your Price: $15.18

Unit:
single
Item# 188318TNS
Retail Price: $73.26
Your Price: $50.77

Unit:
50/case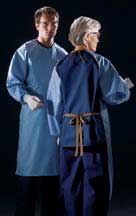 Item# LXCLB6366MD
Retail Price: $26.83
Your Price: $19.04

Unit:
single
Most of us enjoy picking out our own clothes. It gives each person a sense of dignity and personal style. However, in the unfortunate event of serious illness or injury, in many cases that sense of style is forced to give way to the dreaded hospital gown. There is practically no one on the face of the planet who hasn't seen a comedy routine involving open backed hospital gowns or heard a joke or story about someone who had an embarrassing incident while wearing one. While they are incredibly convenient to the medical professionals caring for the patient, they are less than pleasant for the person who has to wear them. By choosing the correct type of hospital gowns, it's possible to help patients feel more comfortable and still be able to do your job properly.
The first thing to consider about hospital gowns is the type of material they are to be made from. In an ER environment, it might be more cost effective and easier to use disposable hospital gowns. The patient won't have to wear it for long anyway. He or she will either be discharged or put in a room. Either way, clothes or a more comfortable gown are going to be part of the equation. For hospital gowns that will be worn longer, it feels better on the skin to pick cotton-polyester blends or pure cotton hospital gowns for the comfort of your patients. Some versions of the hospital gown can even be found in flannel material which would be especially nice for the winter months.
When most people think of hospital gowns, they assume that there is only one style to pick from. In reality, there are several. Hospital gowns can be found in designs more suitable for men or women. For example, the women's hospital gowns often have a back wrap design to limit unintentional exposure of the backside. Men's or the unisex designs are available in all kinds of attractive prints and colors as well as design styles. The unisex hospital gowns are the most commonly used, with the tie back design.
Just like not every patient's needs are the same, what is needed from a hospital gown varies as well. In addition to gowns for men, women, or unisex use, hospital gowns are also made in children's and very large sizes. The idea is to have an adequate supply to care for any patient regardless of size or gender. It's also not uncommon to find hospital gowns with special features to allow for specific uses. IV hospital gowns are made with break away snaps on the sleeves and shoulder areas for easy IV placement and maintenance. For new moms, nursing hospital gowns are simpler to wear and care for their newborn in those crucial first few days.
There are all kinds of things to consider when you purchase hospital gowns. It's no longer necessary to put patients into ill fitting, uncomfortable hospital gowns. There are so many options available now to fit in with any medical need.
MSEC remains dedicated to stocking the very best and the very latest in medical supplies and equipment. We never cease to be on the lookout for the latest innovation that will benefit both our many clients and the patients they dedicate their lives to caring for. If you have any difficulty finding your choices in our vast inventory, call our customer service at 1-877-706-4480 to speed up your order or to make a special request. We are always happy to help you.