Home » Medical Uniforms Medical Scrubs Apparel » Hospital Gowns: Keeping Things Covered » Hospital Gowns: Keeping Things Covered
Hospital Gowns: Keeping Things Covered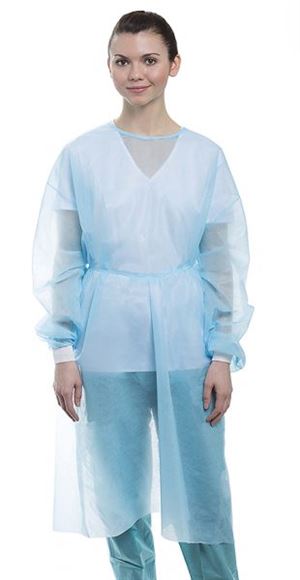 Item# X0623VMAX
Retail Price: $78.06
Your Price: $52.89
ships w/i 10-20 days
Unit:
50/case
Item# Z402110TDMMD
Retail Price: $106.56
Your Price: $86.38

Unit:
12/case
Item# 051HTNONDM
Retail Price: $85.42
Your Price: $63.43

ships w/i 20-25 days
Unit:
75/case
It's true that it takes a lot of supplies to adequately care for your patients in a clinical setting. It doesn't matter if you are trying to work in the office, a hospital, or a nursing home, if you don't have the proper equipment, you won't be very effective at your job. For your comfort and convenience, as well as that of the patient, hospital gowns are one of the most important devices you use throughout your day. Even if the patient is the only one sporting these thoughtfully designed fashion statements, blood work, basic exams, and just about everything goes smoother with the help of a good exam gown. The thing is there are several different types of hospital gowns to choose from. With some careful analysis of your needs, you should be able to determine which of the styles will be most effective in your practice. It's not uncommon to need more than one type in any given office or clinic.
Let's look at the basic hospital gown first. These are typically made of paper, though some very nice styles are available in cloth. You can choose from the cape design or go with the more classic, full length style. The cape hospital gowns are ideal for examining the upper body, leaving the patient to leave his or her bottom clothing on. As you can imagine, for breast exams or mammograms, the cape style gowns are incredibly useful. Many patients feel more comfortable when they can leave some of their own clothing on. Of course, the longer length medical patient gowns are ideal for just about any situation. They tend to be roomy and the side tie option makes the embarrassing open back situation a thing of the past, which is greatly appreciated by most patients. If necessary, these gowns are also made with convenient IV slits.
There are times when safety is the name of the game in patient. Whether it is the patient or the medical professional in need of protection, isolation gowns are a crucial style of hospital gowns. These gowns are ideal for situations where a procedure is going to result in the presence of bodily fluids and other possible contaminants. They are available in both cloth and disposable options. One thing you can expect the isolation gowns to have in common is the knit or elastic cuff. This helps ensure that cross contamination is kept to a minimum for the safety of the patient and the medical team.
Regardless of the type of hospital gowns you need, you can expect every version to come in a wide range of sizes and colors. You may even choose from several patterns as well. Naturally, the cloth hospital gowns tend to be more favored by patients for comfort reasons, but the disposable choices certainly have their place as well. Keep your office needs in mind, as well as the convenience of your patients when deciding on the right hospital gowns for your practice or clinic
MSEC remains dedicated to stocking the very best and the very latest in medical supplies and equipment. We never cease to be on the lookout for the latest innovation that will benefit both our many clients and the patients they dedicate their lives to caring for. If you have any difficulty finding your choices in our vast inventory, call our customer service at 1-877-706-4480 to speed up your order or to make a special request. We are always happy to help you.