Home » Rehabilitation Equipment & Products » Orthopedic Causes & Treatment for Back Pain » Orthopedic Causes & Treatment for Back Pain
Orthopedic Causes & Treatment for Back Pain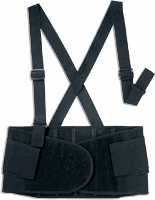 Item# DEM-311LAVMM
Retail Price: $29.54
Your Price: $23.63

Unit:
single
Item# LMS532BTSMM
Retail Price: $53.68
Your Price: $42.94

Unit:
single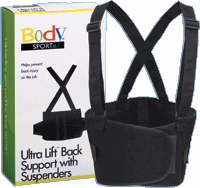 Item# X3-101SDBMM
Retail Price: $46.56
Your Price: $37.23

Unit:
single
Orthopedic Causes & Treatment for Back Pain
Back pain, and specifically lower back pain, is one of the most common orthopedic complaints treated by physicians and is the second most common cause of absence for age 45-and-under employees. (The most frequent cause is the common cold.) Back pain sufferers spend more than $80 million annually in treating this orthopedic problem. Lower back pain can be caused by orthopedic sprains, strains or injury of lower back muscles and ligaments. Back pain can also be caused by orthopedic conditions including:
Osteoporosis-weakening bones caused by re-absorption of bone tissue or lower production of new bone tissue, most often seen in postmenopausal women
Herniated or Slipped Disc-cracks that occur in aging disks causing nucleus material to squeeze into the spinal canal, sometimes pressing a nerve
Segmental instability-a shift of a vertebra onto another vertebra causing nerve irritation or pinching
Arthritis-joint inflammation caused by injury, infection or aging
Bone spurs-bony protuberances formed on disks during orthopedic degeneration processes
Muscle spasms-uncontrollable tightening of muscles reacting to painful spinal movement
Scoliosis-spinal deformities causing side-to-side curving
Poor posture-strained muscles from sitting, standing and walking with the spine out of alignment
Lifting injury-muscle strain caused by twisting and bending simultaneously
Aging-repetitive back stress causes gradual orthopedic degeneration of the spinal column
Smoking-exacerbates the orthopedic aging process
Lack of exercise-weak and inflexible muscles leading to skeletal imbalance and orthopedic back pain
Obesity-weak abdominal muscles, which support the spine, can strain the back muscles and ligaments
Pregnancy-places special stress on all orthopedic components, including the spinal structure and soft back tissue
Other medical conditions such as aortic aneurysm, kidney disease, ovarian and uterine cancer and stomach ulcers can manifest the orthopedic symptoms of back pain.
Orthopedic Treatment and Prevention
Although orthopedic surgery may be recommended to alleviate back pain, most orthopedic patients prefer to try more conservative orthopedic treatment plans that combine common sense methods, such as:
Rest
Medication
Physical therapy
Regular exercise
Healthy Nutrition
Specially constructed orthopedic back support products
Orthopedic back support products from Medical Supplies & Equipment Company, LLC have been specifically designed to alleviate back pain. Each orthopedic back support was constructed for durability, tested during normal activity and is reasonably priced. Choose from orthopedic product such as: