Home » Rehabilitation Equipment & Products » Orthopedic Causes & Treatment for Wrist & Hand Pain » Orthopedic Causes & Treatment for Wrist & Hand Pain
Orthopedic Causes & Treatment for Wrist & Hand Pain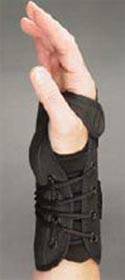 Item# X6584180BRCN
Retail Price: $18.56
Your Price: $14.35

Unit:
single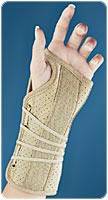 Item# 631ALFMM
Retail Price: $27.94
Your Price: $22.35

Unit:
single
Orthopedic Causes & Treatment For Wrist & Hand Pain
Even when we are resting other joints, the wrists and hands are busy. The hands and wrists are involved in nearly every daily activity, from gripping a steering wheel to scratching a mosquito bite. When hand pain interferes, daily activity comes to a stop. Because of the complicated orthopedic constructions, wrists and hands are susceptible to injury from accidents, misuse and overuse. Multiple small bones with intricate connections to multiple nerve networks, ligaments and tendons mean our hands are the most sensitive and useful body parts. Also because of the complicated orthopedics, our hands may be the first parts to suffer injury.
Hand pain can be caused by orthopedic conditions including:
Arthritis-inflammation of the wrist and finger joints
Ganglion cysts-a fluid-filled lump caused by inflammation of the joint linings or tendon sheaths
Carpel tunnel syndrome-numbness and tingling caused by pressure on the median nerve in the hand
Tendonitis-inflammation and swelling of the sheath surrounding the thumb tendons
Dupuytren's contracture - hereditary orthopedic thickening of the fascia tissue just below the skin of the palm that may eventually pull the fingers into the palm
Trigger finger - inflammation and swelling of the tendon sheath causing the tendon to catch and suddenly release, imitating pulling and releasing a trigger
Smoking - exacerbates Dupuytren's disease
Orthopedic Treatment and Prevention
Recommended orthopedic treatment for wrist and hand pain includes:
Rest
Immobilization using special orthopedic supports, braces or splints
Ice
Heat
Anti-inflammatory medication
Physical therapy
Orthopedic stretching exercises
Modification of specific orthopedic activities
Orthopedic support and orthopedic immobilization products specifically constructed for wrist and hand pain
Carpel Tunnel Syndrome Orthopedic Treatment and Prevention
Numbness and tingling caused by orthopedic pressure on the median nerve in the hand (carpel tunnel syndrome) can be alleviated and sometimes prevented by non-invasive orthopedic treatment. It is especially important for individuals in the early stages of carpel tunnel syndrome to wear orthopedic braces at night to keep the wrist in an orthopedic neutral position (not bent too far forward or backward). The orthopedic neutral position opens the carpel tunnel, where tendons, ligaments and nerves travel from the wrist into the hand, as far as possible and avoids orthopedic nerve pressure. Treatment also includes:
Rest
Immobilization and proper orthopedic alignment using special orthopedic supports, braces or splints
Anti-inflammatory medication
Modification of specific repetitive activities
Orthopedic support and orthopedic immobilization products specifically constructed for wrist and hand pain
Orthopedic products from Medical Supplies & Equipment Company, LLC have been specifically designed to alleviate wrist and hand pain. Our orthopedic products are durable, lightweight and reasonably priced. Orthopedic wrist and hand support products include:
Orthopedic wrist splints and supports with abducted thumb immobilize the wrist and thumb, protect from impact and absorb shock
Orthopedic thumb splints protect, support and immobilize the thumb and wrist, plus stretch to allow for swelling changes.
Orthopedic thumb stabilizers, lightweight and low profile orthopedic supports, provide flexible orthopedic support during daily activities and some sports.
Carpal tunnel orthopedic wrist supports designed to hold the wrist in a neutral orthopedic position and allow finger dexterity (The design does not allow the wrist to drop, avoiding tendon overuse, and provides orthopedic compression for pain relief.)