Home » Medical Uniforms Medical Scrubs Apparel » Stay Covered with the Right Type of Bouffant Cap » Stay Covered with the Right Type of Bouffant Cap
Stay Covered with the Right Type of Bouffant Cap
Item# 82282NONMD
Retail Price: $120.31
Your Price: $103.88


Unit:
500/case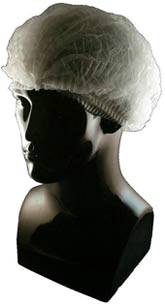 Item# 31588-21SNT
Retail Price: $66.80
Your Price: $58.46

Unit:
1000/case
There is no doubt that working the medical field has its moments of high stress. Especially if you are in the emergency or surgery fields, it's not uncommon for things to get tense. When it comes time to save someone's life or work hard to improve their quality of life, it's important to know that the tools you need to do so are right at hand. Naturally, a fully stocked operating room is imperative to the medical team's success. You also need to know that each and every member of the team is ready for business from head to toe. Speaking of head, bouffant caps are vital for the safety and comfort of everyone, both medical professionals and patients.
Many doctors and nurses, especially those who spend a great deal of time in the operating room, have their own personal bouffant caps. They are typically made from cotton or nylon and can be found in a huge assortment of colors and patterns. However, it is imperative to have disposable bouffant caps on hand as well. You never know when someone is going to forget their favorite personal bouffant cap at home or get caught up in an emergency. Manufacturers have worked hard to ensure that these caps are available in every size and style the modern surgical medical professional could possibly need. Here is a look at some of the choices you can expect to find.
The first thing to know about disposable bouffant caps for surgery and procedures is that they come in a wide assortment of sizes. You can find bouffant caps made in 19, 21, or 24 inch sizes. The reason for the variety in sizes is to ensure that everyone can find a proper fit. People don't have one size fits all heads, and hair, especially for women, can certainly take up a lot of space inside one of these bouffant caps. It's often best to have a variety of the sizes on hand just in case.
The medical bouffant caps are made of polypropylene. This material is incredibly light weight and breathes well. It's incredibly important to know that the head can get air when you are working under the hot lights of an operating room or exam room. Another reason this material is so popular for the bouffant cap is that it doesn't product much lint at all. You can bet your patients will appreciate not having to pick lint off of them after spending some time with you.
It's nice to have some variety at work, even in your choice of bouffant caps. These vital medical supplies come in all kinds of pattern options. You can choose from white or blue solid caps, or get more creative with the multicolor options or the butterfly print. For a patriotic mood, order some bouffant caps with an American flag image. It's fun for you and gives the patient something interesting to look at.
MSEC remains dedicated to stocking the very best and the very latest in medical supplies and equipment. We never cease to be on the lookout for the latest innovation that will benefit both our many clients and the patients they dedicate their lives to caring for. If you have any difficulty finding your choices in our vast inventory, call our customer service at 1-877-706-4480 to speed up your order or to make a special request. We are always happy to help you.