Home » Emergency Medical Supplies » Aluminum Alloy EMS Evacuation Stair Chair: Saving Lives at Residential Care Facilities » Aluminum Alloy EMS Evacuation Stair Chair: Saving Lives at Residential Care Facilities
Aluminum Alloy EMS Evacuation Stair Chair: Saving Lives at Residential Care Facilities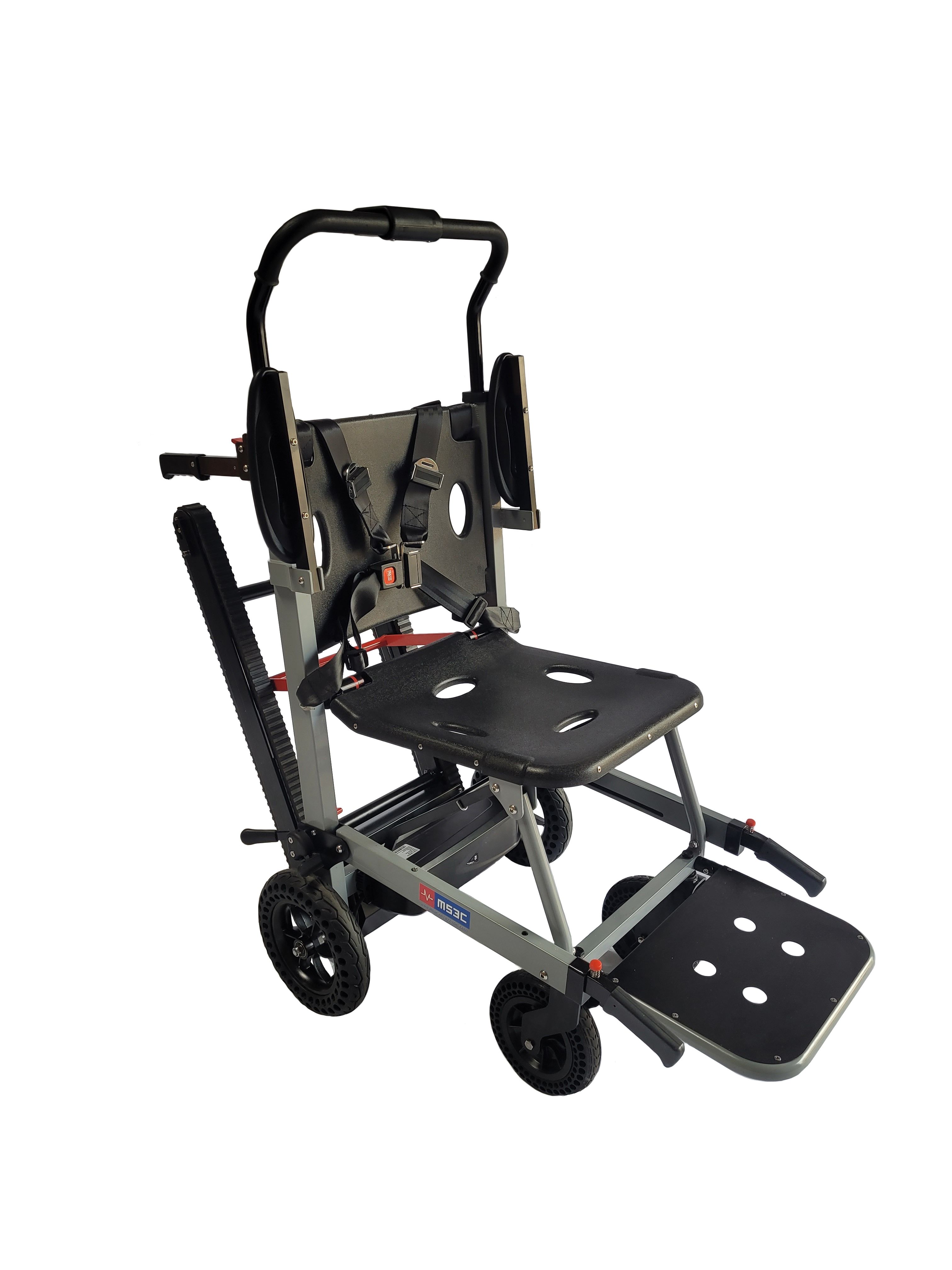 Item# MS3C-330ATB
Retail Price: $2,895.00
Your Price: $2,198.00

Unit:
single
Item# MS3C-500PHT
Retail Price: $2,199.00
Your Price: $1,889.00


Unit:
single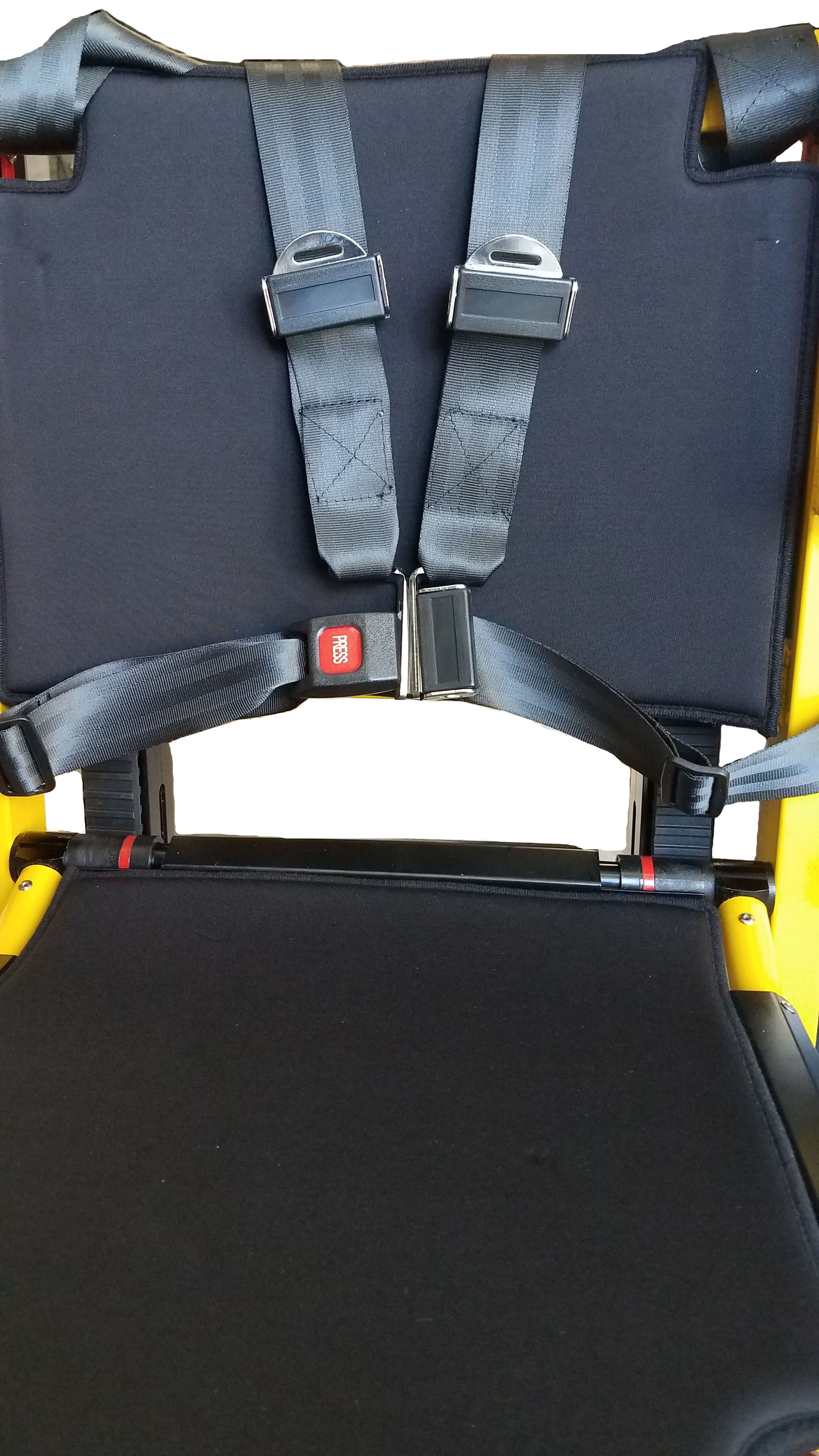 Item# MS3C-SHLDRBELT
Retail Price: $58.95
Your Price: $49.95

Unit:
1 pair
If there is a fire in a residential or office complex. The most important and viable escape route is the stairs. In fact, stairs may be the only means of escaping a building during an emergency. If the power goes off or there is a fire, the National Fire Protection Association (NFPA) clearly state elevators are to be avoided. They urge everyone to take the stairs whenever safe to do so.
However, if you have mobility issues, this is easier said than done. While some companies, residence, and businesses simply utilize a plan in which they include a refuge room or opt for a "defend in place" stance, across the country, residential care facilities for the elderly are actively pursuing a different approach. They are adding the placement of an EMS evacuation chair stair on each level.
The Role of Legislation
While many residential home care facilities for the elderly are voluntarily installing evacuation chair stairs in case of emergency or disaster, those who are slow to adopt this approach may soon find they have no choice. Legislation is playing a strong role in ensuring the protection of this most vulnerable sector of society. California, for example, requires all such facilities have in place "An evacuation chair at each stairwell, on or before July 1, 2019." (Assembly Bill No. 3098 Chapter 348, 1569.695. 7:e1).
However, not all states are adopting this measure. They are allowing nursing homes and similar facilities to rely on safe or refuge rooms. They may also be straining their staff physically by expecting them to carry out those suffering from mobility issues. This can result in both patients and staff suffering harm – physically, emotionally and psychologically.
By adopting this type of legislation, governments are working to prevent further disasters occurring. Nursing homes of various types tend to suffer a greater loss of life during fires as a result of several factors, including a lack of readily available and proper evacuation equipment.
Evacuation Chair Stairs in Emergencies
Having the proper equipment in place can save lives. This is true whether the inhabitants of a building or children or the elderly. However, unless the facility puts into place and utilizes an approved fire and disaster preparedness plan the result may not be as expected. Safety evacuation planning requires everyone knows what to do. This is critical – particularly when the individuals are dependent upon the capabilities of the nurses and other caregivers.
Caregivers must receive training on how to use an evacuation chair properly. They must practice with it in coordination with other evacuation strategies. By doing so, they can help those under their care to leave the premises orderly, quickly and effectively.
While standard practices within many nursing homes do not require chair stair equipment be available, these devices have proven to be an effective tool of fire departments. In 2012, the fire crew brought stair chairs to help remove the residents in the 16-story Concord Place Retirement and Assisted Living Community in Chicago Illinois. Though the evacuation was successful, it would have been more efficient if the latest models of lightweight aluminum alloy EMS emergency evacuation chairs had already been assigned to appropriate locations.
There is another lesson all residences – not just those for the elderly, can learn from the Concord fire. Firefighters found different chairs required different levels of skill to operate. Moreover, certain types were better suited to this particular evacuation. Certain older models provided undesirable challenges. Lighter and newer models performed better.
Those who own and operate retirement and care of the elderly facilities need to be sure to install evacuation chairs that meet the requirements of both their patients and the environment. They must be able to maneuver the specific stairwell design. They need to be light and easy to handle by one individual – even if more than one patient is using it as a transport system. In other words, retirement and assisted living residences need to carefully test the various models before purchasing one for potential use in an emergency.
EMS Evacuation Chairs
During a disaster, the elderly are often the most vulnerable group. They are frail and most commonly suffer from diabetes, hypertension and cardiac problems. Moving them requires care and attention to detail. While the staff in an elderly care facility may understand these issues and others such as dementia and arthritis that can affect a patients' mobility, they must undergo thorough training with the equipment essential for safely removing their patients from the impending or actual danger.
During a fire or other emergency situation, evacuation is essential. In the past, too often nursing homes have failed to provide successful egress to many of their patients. In California, the law has taken a firm stance to prevent such occurrences. It has legislated the positioning of EMS evacuation chairs at each level. Purchasing such lightweight, durable and easy to deploy chairs is one means of ensuring a faster and safer evacuation of residential care facilities for the elderly.