Home » Rehabilitation Equipment & Products » Chiropractic Table Options for Your Practice » Chiropractic Table Options for Your Practice
Chiropractic Table Options for Your Practice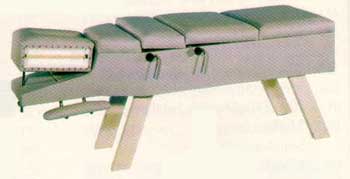 Item# AC-9991GAL
Retail Price: $2,151.16
Your Price: $1,750.00

Unit:
single
There are a variety of chiropractic table options that make it easy for chiropractors and therapists to find the right equipment for their needs. With so many different choices in tables, it is essential to do a bit of research and find out just what new and traditional features are out there. Some of the tables can help in patient comfort, while making it easier for chiropractors and medical staff to work on patients.

One of the first major decisions that needs to be made to select the best chiropractic table for your needs is to determine if you want a two or three section chiropractic or traction table, or if you want a table that offers a range of different positioning options. A two section table is very study and solid. However, it only allows the back rest to be inclined or raised up to a 75 degree angle. The body and leg section of the table remains horizontal, and there is no addition leg rest that can be positioned independent of the body. This chiropractic table, like most other models, does have the ability to be raised and lowered to provide ease of transfer of patients in wheelchairs or those with limited mobility. The table is mounted on four retractable casters, and can be moved easily from room to room as required, which is similar to other types of chiropractic tables. Two section tables are very popular for a many different patient treatment options. They are durable and relatively low cost when compared to other models of chiropractic tables.

Three section tables are strong, solid and durable and offer the same features as two section traction tables with one major advantage. In addition to the back rest, they also have a leg rest that can be positioned separate from either the central section or the backrest. The result is greater positioning options for the patient and ease of working with the patient for the chiropractor or therapist. These tables are up to 84 inches in length, 30 inches in width and can have a maximum height of up to 38 inches. Weight capacity on these types of chairs will vary with model but can be up 450 pounds on most standard tables.

Stationary chiropractic tables offer a range of features that provide both patient comfort as well as ease of patient contact for the chiropractor. The table has a thicker foam surface, leg braces, stationary positioned arm rests, as well as a headrest that can be specifically positioned for maximum patient comfort and support. These tables are very low cost and have a lifetime warranty on the frame, making them a great standard addition to any patient exam room.

Specialized chiropractic tables that offer up to eight different positions for the face opening and headrest section of the table are ideal for any chiropractic office. These tables are very unique and are not styled like standard medical tables. The patient can be very comfortable yet secure and the doctor has access to the patient as required for the treatment. Hi low options of these tables make patient transfer simple while providing tilt options for different stretches and body positioning.

MSEC remains dedicated to providing the very best and the very latest in medical supplies and equipment. We never cease to be on the lookout for the latest innovation that will benefit both our many clients and the patients they dedicate their lives to caring for. If you have any difficulty finding your choices in our vast inventory, call our customer service at 1-877-706-4480 to speed up your order or to make a special request. We are always happy to help you.