Home » Rehabilitation Equipment & Products » The Benefits of Portable Chiropractic Tables » The Benefits of Portable Chiropractic Tables
The Benefits of Portable Chiropractic Tables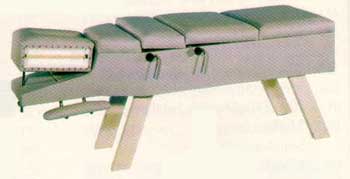 Item# AC-9991GAL
Retail Price: $2,151.16
Your Price: $1,750.00

Unit:
single
Item# FC-3991GAL
Retail Price: $830.00
Your Price: $630.00

Unit:
single
Portable medical equipment has really changed over the years. No longer flimsy or unstable, it has been designed to be durable, stable and easy to move. Portable chiropractic tables are a great addition for home health care providers, therapists, and chiropractors who may see patients outside of their office. These portable chiropractic tables are designed with patient comfort in mind, and feature thick padding, puncture resistant upholstery, and easy-to-clean surfaces.


Portable chiropractic tables can be used in all types of settings and venues. With many models weighing 32 pounds, it is easy for one person to carry, set up, and take down these tables without any assistance. This is a great feature for the chiropractor or massage therapist who travels to his patients. Many chiropractors may work with hospice facilities, nursing homes, or assisted living facilities to see patients at their location. These portable tables prevent the need to purchase a stationary chiropractic table for every place where you work directly with clients. This also prevents the need to have a set space, as you can easily move between patient rooms, or set up in a central location.


High density foam is an important consideration for patient comfort on portable chiropractic tables. Since the patient may be either in a prone or supine position, the foam padding is essential for comfort as well as providing a relaxing experience for the patient. Since the foam is typically covered by a strong upholstery such as vinyl or a polymer, there is no need to worry about scratching or scuffing of the surface with normal use. The upholstery can also be easily cleaned between patients with any approved disinfectant or cleaning solution. The upholstery is water resistant, and the padding is seam free across the upper surface, preventing any liquids from getting into the foam.


Portable chiropractic tables can have all the features of a standard chiropractic table. A padded face section provides support for the head while in the prone position. Padded hand rests are conveniently located below the face section for patient comfort. Overall, the table's measurements are 66 inches in length by 21 inches in width, making it large enough to comfortably support most adult patients. Most portable chiropractic tables also provide an option of different heights, ranging from 17.5 to 23.5 inches. Different colors of upholstery may also be available at no additional charge, allowing you to choose pick the color of your choice. Lightweight, yet incredibly strong aluminum is generally used in the frame, which means that the table will be resistant to rust or corrosion that may be problematic with other types of metals. Weight capacity of portable chiropractic tables will vary based on the model. Most are rated to safely handle the vast majority of adult patients. Some models have been live weight tested at up to 2500 pounds, which ensures that there is never a concern for the patient's safety regardless of his or her weight.


MSEC remains dedicated to providing the very best and the very latest in medical supplies and equipment. We never cease to be on the lookout for the latest innovation that will benefit both our many clients and the patients they dedicate their lives to caring for. If you have any difficulty finding your choices in our vast inventory, call our customer service at 1-877-706-4480 to speed up your order or to make a special request. We are always happy to help you.