Home » Rehabilitation Equipment & Products » Tips For Choosing a Traction Table » Tips For Choosing a Traction Table
Tips For Choosing a Traction Table
Item# FC-4991GAL
Retail Price: $870.00
Your Price: $650.00

Unit:
single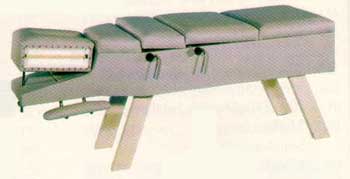 Item# AC-9991GAL
Retail Price: $2,151.16
Your Price: $1,750.00

Unit:
single
As with most equipment that you have to by for your office, practice or medical facility you will find that there is a direct relationship between price, features and quality. While there are some great quality lower priced traction table available, they often don't have all the features that the top of the line models have. Deciding how important these additional features are in each particular type of practice is essential in deciding which type of traction table really is the most cost effective and efficient for your practice.

One of the major things to consider when choosing a traction table is how easy it is for the patient to access as well as how comfortable it may be. While the standard types of traction table options may offer a head pillow or cushion for the patient, others offer a headrest similar to that of a massage table, providing ideal positioning with the patient in any position on the table. Elongated breathing holes in the headpiece are also important to consider if you are working with pediatric patients in the practice that do need different equipment positioning for comfort and safety.
Having the option of easy control of the positioning of the table from either side is also an important consideration. This is a real time saving option as staff doesn't have to be on one specific side of the table in order to change the position or make an adjustment to any section of the table. Moving the whole table up or down should also be possible from any position around the table, again providing the maximum flexibility in positioning the table in the room and working with patients with different physical needs and abilities.
The weight capacity of the table is a consideration when bariatric patients or heavy patients are seen within the practice. Most of the standard traction tables will hold up to 350 pounds, but tables that are capable of holding up to 450 pounds are also available. Additional features such as movable arm rests and drop down shoulders that can be adjusted to comfortably support the patient in any position on the table can also make a huge difference for staff and patients alike.
Traction table options come in many different model types from seven section tables through to the more simply designed two section tables. Two section tables are often more durably designed and very easy to position, perfect for easy movement between rooms and patient care areas. If the table is going to be moved it is important to look for retractable castors and durable wheels, typically made of nylon, that make easy and quite movement simple even with these sturdy and very durable tables.
Finally, knowing what type of traction set up that will be used with the table is important in selecting the model that will be the best match. Most standard tables will adjust to match any standard types of traction systems, although seats for cervical traction may or may not be offered as additional features on many of the models of traction tables.

MSEC remains dedicated to providing the very best and the very latest in medical supplies and equipment. We never cease to be on the lookout for the latest innovation that will benefit both our many clients and the patients they dedicate their lives to caring for. If you have any difficulty finding your choices in our vast inventory, call our customer service at 1-877-706-4480 to speed up your order or to make a special request. We are always happy to help you.