Home » Rehabilitation Equipment & Products » Traction Tables: Beyond The Basics » Traction Tables: Beyond The Basics
Traction Tables: Beyond The Basics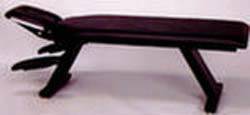 Item# AC-6991GAL
Retail Price: $1,275.76
Your Price: $941.43

Unit:
single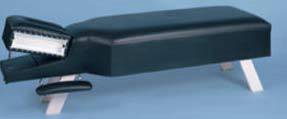 Item# AC-9891GAL
Retail Price: $948.10
Your Price: $785.71

Unit:
single
Traction Tables: Beyond The Basics
Traction tables are an essential piece of medical equipment in any orthopedic, rehabilitation or emergency unit. While standard tables or beds with traction units can be used, a specifically designed traction table can provide enhanced patient comfort and increased positioning options. Having the right equipment that goes beyond a basic table is essential in providing patients with the best possible recovery, and allowing doctors and staff to use the latest in researched procedures and techniques.

One type of traction table that incorporates several diverse types of applications is the deluxe model. These models may have heat and vibration, allowing the patient to receive all back and spine treatments on one table without the need for additional equipment. This prevents the need to move the patient to provide heated pads while providing traction therapy. The rollers, which are located under the patient's back and legs, are designed to drop down into the table when not in use converting the table into a standard exam table. The table also comes complete with brackets as well as harnesses for the thorax, legs and head. Depending on the model, it can be standard or custom height depending on personal preference.

A more streamlined option in traction tables is a four section table. This clean and open design of table offers a great range of positioning possibilities with the head and foot sections having a full incline range of up to 90 degrees. In addition, the head section can also lower to 25 degrees. Although lightweight in design these tables are still very sturdy with a maximum weight and lifting capacity of up to 400 pounds. The height of the table, which can be controlled by either a hand or foot control unit, can be positioned between 21.5 to 41.5 inches. This is ideal for easy transfers from wheelchairs or other beds at lower levels and then the traction table is raised to a comfortable height for staff. Casters on the bottom on the four section table are retractable, allowing for easy movement of the table and then secure positioning when in use. The lumbar section of the table is designed to glide without friction and the traction unit is turret mounted, giving the option for angular pulls as opposed to straight pulls.

Seven section traction tables provide a huge range of possible positioning for patients. The table can be lowered to 18 inches for patient transfers and then raised to up to 38 inches. There is a head section, backrest, center section, movable arm rests, drop down shoulders and leg section that all move independently of each other. The movement is controlled by gas struts for smooth transitions. The head section is fully pivoting and also features an oversized breath hole and face plug for prone as well as supine positioning. There are many different options to choose from when selecting traction tables. Browsing around on the internet and looking at the tables available will help you determine which model is best suited to your specific requirements and budget.

MSEC remains dedicated to providing the very best and the very latest in medical supplies and equipment. We never cease to be on the lookout for the latest innovation that will benefit both our many clients and the patients they dedicate their lives to caring for. If you have any difficulty finding your choices in our vast inventory, call our customer service at 1-877-706-4480 to speed up your order or to make a special request. We are always happy to help you.