Home » Rehabilitation Equipment & Products » Physical Therapy Equipment » Physical Therapy Equipment
Physical Therapy Equipment

Item# 6831HSM
Retail Price: $2,318.57
Your Price: $1,945.59

Unit:
single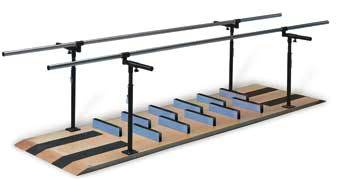 Item# 3931HSM
Retail Price: $3,250.27
Your Price: $2,455.88

Unit:
single
Item# 6931HSM
Retail Price: $7,585.40
Your Price: $6,877.94

Unit:
single
Rehabilitation Equipment - The More You Know the Less it Hurts
There are many forms of rehabilitation equipment available to physical therapists, patients, and physicians. Depending upon the type of recover the patient will undergo, different types of rehab equipment will be required. Physical therapy, hydrotherapy, and electotherapy are all means through which recovery can take place. The patient's specific needs will dictate which type is best for him.
While the patient is undergoing pain relief, he should also work to rebuild muscle tone which is often lost during the non-use of the resting period following the injury. This requires that the patient works carefully with a physical therapist in order to do the proper exercises to avoid further injury or harm. The strength building exercises prescribed by the physical therapist need to be adhered to and complied with on a regular basis. It will be likely that the patient will need his own set of the same sort of rehab equipment found in the therapist's office. Before deciding upon physical therapy equipment for home use, the patient should consult with his therapist to ensure that he is purchasing the right piece for his size and injury type.